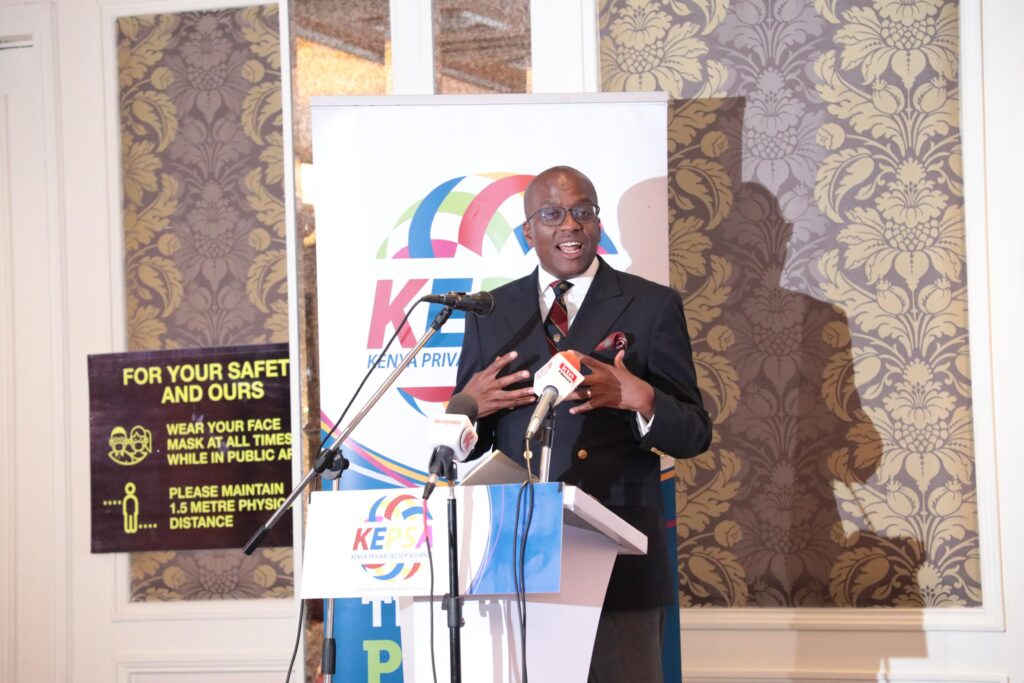 The Kenya Private Sector Alliance (KEPSA) today
presented the Private Sector Economic Manifesto for Nairobi County to the Azimio La
Umoja-One Kenya Alliance candidate for Governor, Mr. Polycarp Igathe.
The manifesto emphasizes eight thematic areas where the private sector wants changed,
on how the capital city is governed including e-government, compliance and enforcement,
healthcare, competitiveness, jobs creation as well as culture, and social inclusion.
Other priority interventions include a working and sustainable urban mobility and
transport system, an integrated urban land use plan, water, wastewater and solid waste
management, and robust security & disaster risk management agenda for the city.
In presenting the manifesto, KEPSA hopes to influence both the presidential and
Gubernatorial candidates to incorporate the private-sector economic agenda into their
leadership manifesto. According to Carole Kariuki, KEPSA Chief Executive Officer (CEO),
Nairobi requires a leader who will prioritize making Nairobi a competitive, green,
inclusive, resilient, and safe city to live, work and do business.
"KEPSA has been key in advancing legislative advocacy work around improving the
business environment and our development model through Public-Private Partnerships,
and this will be key in driving the economy of the county. It is time to make our city
workable and tourist-friendly to transform it to greater heights", said Kariuki.
In KEPSA's wish list for the county, is the call to embrace technology for a world-class
mobility and transport system coupled with proper management of traffic and congestion
in the city with full implementation of the national address system.
Others are the strengthening and availability of public health services including capacity
building and recruitment of adequate staff as well as the development of an integrated
system to manage water supply by increasing sufficiency, harvesting, and recycling as
well as adopting smart waste management systems for Nairobi.
"The next county government must ensure the complete restoration of Nairobi River and
its tributaries. It is time to start having outdoor concerts by the rivers and parks around
the city", added Kariuki.
Similarly, the private sector wants the establishment and operationalization of a County
Disaster Operation Center, fully equipped with Early Warning Systems, hazard mapping,
a disaster monitoring database, and Standard Operating Procedures detailing the full
continuum of procedures for handling Level 1 and Level 2 disasters.
Speaking at the event, Igathe said if elected he will seek to create a fit-for-purpose county
government in the first one hundred days, with motivated staff and cabinet, to deliver on
his vision of Nairobi, adding that he will institute a five-year score card pegged on a yearly
performance agreement with the public.