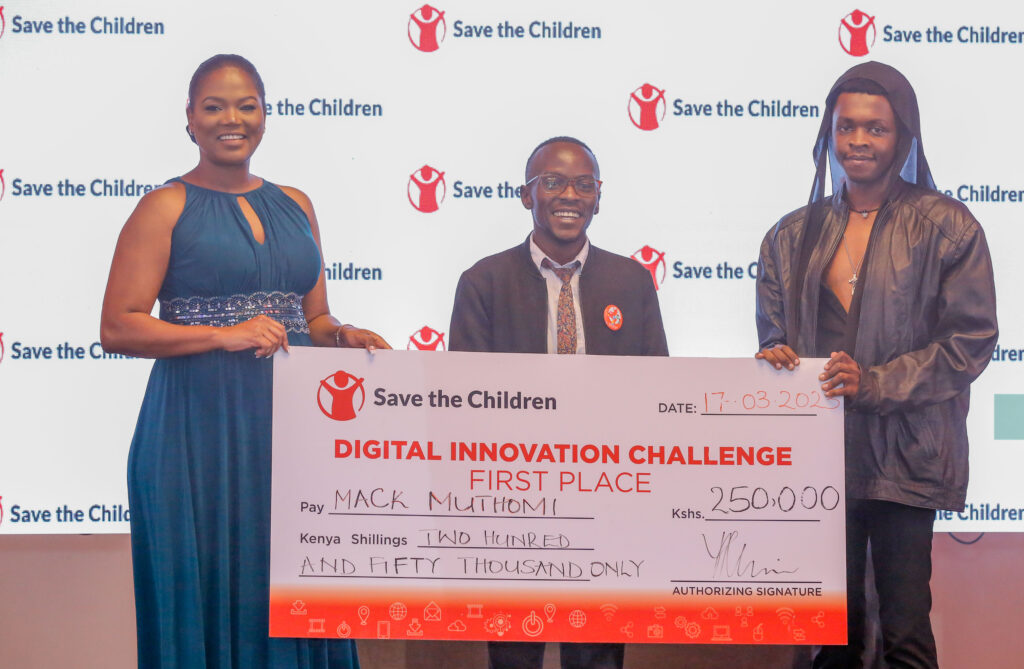 By Ronald Njoroge
23-year old university student Mack Marangu was declared winner
of Save the Children's Digital Innovation Challenge, during a winner announcement ceremony
that took place on Friday evening.
Mack walks away with a cash prize of Ksh. 250,000 and an opportunity to collaborate with Save
the Children to customize and scale up his innovation and or get a 12-month fellowship program
to develop and implement it further.
The journalism and mass media communications graduate who is also pursuing a Bachelor's
Degree in Computer Science from the University of London emerged victorious after
successfully pitching and convincing a group of select judges in the technology, education and
climate resilient and livelihoods space, that his innovation was indeed the best.
His innovation dubbed Toto Register, is a digital attendance system that is designed to take the
daily attendance of students in Kenya. The system utilizes a mobile app that allows teachers to
import student lists, mark attendance, and transmit the data securely to a backend server.
Speaking after he was announced winner, Mack said he was elated by the news.
"I hoped that I would win but never did I think that I would. It is such an honor to have this
opportunity to show you what we are doing in Tharaka Nithi to protect children and to ensure
they get constant and quality education. It is great to see what my fellow young innovators are
doing and how this will have greater impact for children," said an elated Mack.
Hot on his heels were KCA University student Gift Mumbi who was 1st runner-up for her
innovation, Maoni Mtaani, a feedback mechanism system while Sydney Aurah was the 2nd
runner-up for his innovation, Mwalimu Smart, a chatbot and SMS-based learning platform
targeting children in pastoralist communities. The two will get Ksh. 150,000 and Ksh. 100,000
respectively.
"We received 163 submissions from across the country. From this, we were able to narrow
down to 12 innovators who got a chance to pitch their innovations to a panel of five judges. We
were extremely impressed by the caliber of entries we received for the digital innovations. It
demonstrated the remarkable talent and creativity Kenyan youth possess," said Hellen Owiti,
Director for Programme Development and Quality at Save the Children Kenya and Madagascar
Country Office.
The judges of the innovation challenge included, George Owiso, I-TECH Kenya Country
Representative, Moses Okech, Masterspace Solutions Limited Chief Technical Officer, Mercy
Shitolwa, Business Intelligence Solutions Developer, Clara Njeru, Researcher & Product
Designer – Education Design Unlimited and Stephen Mutiso, Senior Climate Resilient
Livelihoods Advisor with Save the Children UK.
Speaking during the award ceremony, Yvonne Arunga, Country Director for Save the Children
Kenya and Madagascar Country Office expressed the oKenya and Madagascar Country Office expressed the organization's commitment to leverage digital innovation in it's programming.