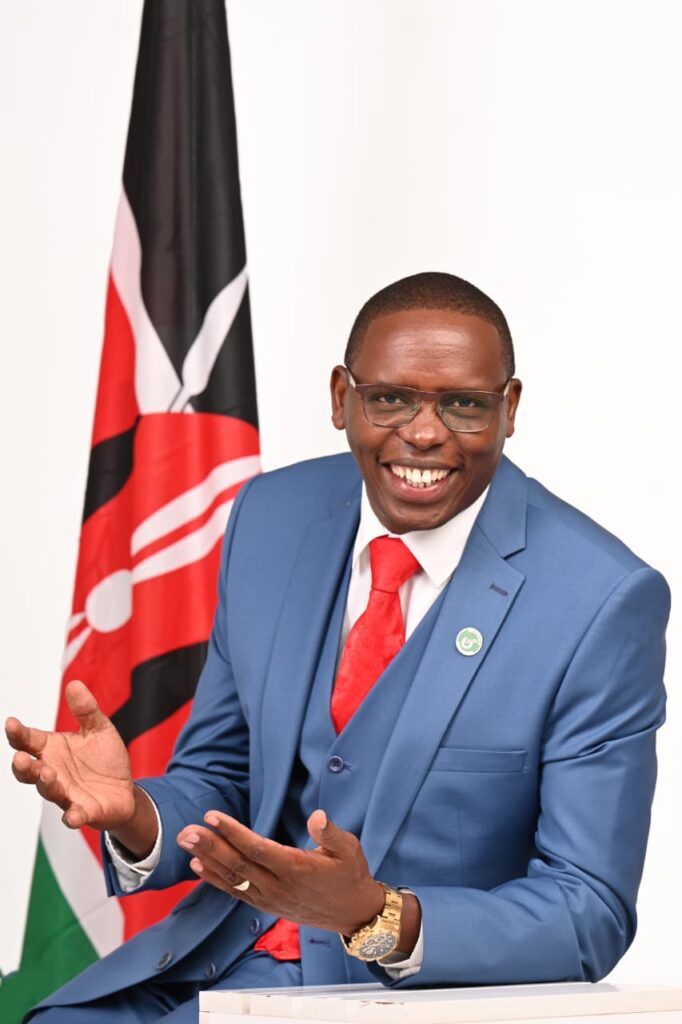 Renowned real estate entrepreneur and CEO of Optiven
Group, George Wachiuri, has urged forward-thinking investors in Africa and the United States of America (USA) to capitalize on the real estate sector for fostering individual and national socioeconomic progress. Speaking at an investment expo in Washington DC, Wachiuri emphasized that real estate presents the most favorable avenue to drive the revitalization of both personal and countrywide growth.
Wachiuri pointed out the fast-tracked infrastructural expansion, high rate of urbanization, favorable government policies as solid factors that continue to solidify real estate sector as the place to place growing bucks.
Casting light on the fast-tracked infrastructural expansion across Kenyan cities, he pointed out the great development that has recently taken place in Nairobi, Mombasa, Kisumu, and Nakuru, as a development that has further accelerated the real estate potential in Kenya. He also highlighted upcoming developments such as Silicon Savana-Konza Technopolis, as well as booming towns like Nyeri, Nanyuki, Isiolo, and Kajiado. With the urban population projected to increase significantly, reaching 50% of Africa's population by 2050, Kenya offers enormous opportunities for real estate investors.
"Nairobi, for example has greatly been transformed by the massive expansion of infrastructure, such as the Nairobi Expressways and the dial-carriage by-passes that now form a ring around the city. These infrastructure initiatives, supported by significant investments, are poised to boost economic growth and attract foreign investors to Kenya's real estate market," said Wachiuri.
The OVC Business Expo in Washington DC was organized by 'One Voice Consortium and brought together investors and entrepreneurs from Africa and the United States, with a particular focus on the African diaspora community.
The event was graced by esteemed speakers, including Bennett Harman, Deputy Assistant U.S and Trade Representative for Africa; Roseline Njogu, PS Diaspora Affairs, Kenya; and Lazarus Amayo, Kenya Ambassador to the USA.
Wachiuri noted that Kenya's latest inroads into infrastructural expansion hasn't been a preserve for Nairobi. Various counties across the country including Mombasa, Nakuru and Kisumu have also greatly benefited from great new roads networking.
In fact, infrastructure spending in Kenya is projected to reach Kshs 1.7 trillion (approx. USD 16 billion) by 2025, compared to Kshs 1.1 trillion (approx. USD 10 billion) in 2020. This substantial investment aims to create a conducive environment for businesses and facilitate sustainable economic development in the country. This is according to a recent Deloitte report.
Wachiuri emphasized the favorable government policies on land ownership and capital movement, including long-term leases for foreigners. Additionally, Kenya's skilled population, proficient in English, French, and Kiswahili, ensures access to competent labor and a conducive work environment.
"The real estate opportunities in Kenya span across several areas. Residential real estate stands out with a staggering housing deficit of 2 million units, which translates to a demand for 200,000 housing units annually. Currently, only 50,000 units are being constructed, leaving a housing gap of 150,000 units per year. The demand for commercial real estate, including residential homes, office spaces, restaurants, business hubs, theme parks, and entertainment joints, is simply massive," said Wachiuri.
The Kenyan real estate market is a ready plug in offering solution to this affordable housing need and the sector must position itself as a critical player in addressing the housing needs of the population. By attracting foreign direct investment, real estate development in Kenya stimulates economic growth and supports the overall development agenda of the country.
Moreover, he noted, land investments present a significant opportunity in Kenya, with 68% of land still untitled, according to the Kenya Land Alliance. This untitled land holds immense potential for development, necessitating the application of advanced technology, such as geospatial planning, to unlock its value.
Real estate development in Kenya plays a vital role in the country's socio-economic development. According to the Kenya National Bureau of Statistics (KNBS) Economic Survey
2021, the real estate sector in Kenya grew by 3.2% in 2020, contributing 7.3% to the country's GDP. Although there was a slight decline in employment numbers, with 213,500 people employed in the sector in 2020 compared to 227,800 in 2019, real estate remains a significant source of employment for many Kenyans.
The Kenyan diaspora community has a substantial impact on Kenya's real estate sector. In 2020 alone, an estimated 3 billion USD in remittances were sent back home, contributing to the growth of the industry. Recognizing the challenges faced by diaspora investors, Wachiuri acknowledged that some real estate developers in Kenya have been involved in fraudulent activities, resulting in financial losses. However, he encouraged investors to conduct thorough due diligence and collaborate with reputable developers and real estate professionals to ensure the security of their investments and contribute to the socio-economic development of Kenya.
By partnering with reputable developers, conducting due diligence, and embracing sustainable practices, investors can contribute to Kenya's socio-economic growth while ensuring the security and impact of their real estate investments. As Kenya continues to flourish, bridging business opportunities between Africa and the United States remains essential for mutual prosperity and development.