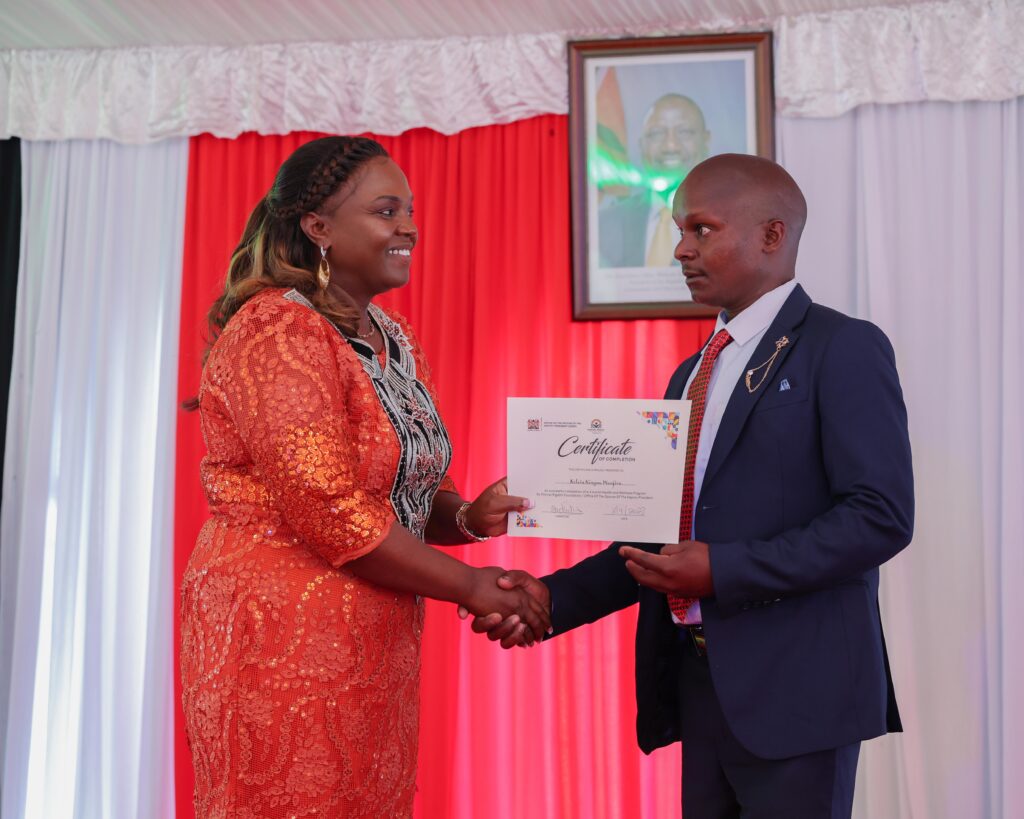 Kelvin Kinyua receives a certificate from the spouse of the Deputy President Pastor Dorcas Rigathi at the official residence of the Deputy President in Karen, Nairobi County where a special graduation for the first cohort of 83 rehabilitated men who were addicted to alcohol, drug and substances under the boy child program in her office were celebrated on Friday 8th September 2023. Photo/OSDP
By OSDP
8th September 2023
83 men addicted to alcohol, drugs and other substances graduated during a special ceremony to mark their rehabilitation success at the official residence of the Deputy President in Karen, Nairobi on Friday.
This event marked the culmination of three-months of inpatient rehabilitation at a rehabilitation and recovery centre in Meru and the outpatient community-based rehabilitation program in Donholm, Nairobi.
The spouse of the Deputy President Pastor Dorcas Rigathi flagged off the Mathira group on June 8, 2023 for rehabilitation at a church in Mathira Constituency.
"I recall the day I flagged off this first cohort for rehabilitation back in March this year. You bore no resemblance to the individuals I see before me today. Your transformation is nothing short of miraculous," said Pastor Dorcas during the graduation ceremony.
She acknowledged the bravery of the men in fighting off the withdrawal symptoms and reconditioning their bodies to daily life routines, including learning new skills like beadwork, hair dressing and farming while at the rehabilitation centre.
Pastor Dorcas called on the private sector to join in the fight for the boy child, saying that public funds were not enough in dealing with the drug menace that has affected the nation for decades.
"Since the inception of the Boy Child Program, we have held medical camps and feeding programs to reach out to our boys and men across board. Many have expressed a strong desire to be free from the shackles of addiction. My office has a record of thousands on the waiting list who wish to undergo rehabilitation," said Pastor Dorcas.
Parents, guardians, the house of clergy, psychologists and psychiatrists attended the graduation.
Gatanga MP Edward Muriu said the graduation ceremony was extremely emotional (since he saw many in the audience shed tears after watching the videos of the beneficiaries).
"I did not know the magnitude of this day, and the graduation. When I saw the video of these young men when they were going for rehab, and whom they have become today, dressed in suits; this is indeed transformative," said MP Muriu.
Deputy Governor-Nyeri David Warui appreciated the boy child program for redirecting the lives of men whose lives had digressed.
"I attended the graduation today, not knowing that I would find one of my grandson's and another, a friend as some of the beneficiaries. Thank you for bringing back to these men from where they had digressed," said DG Warui.
Bishop Samuel Munai encouraged the beneficiaries of the program telling them that though they were rejected by society, the same people would start looking for them post-rehabilitation.
"Rejection is sometimes an opportunity for redirection," said Bishop Munai.
Sister Veronicah N'torukunga who was with the beneficiaries throughout the three-month rehabilitation at their facility commended them for being strong despite the withdrawal symptoms they faced.
The OSDP is working on an end-to-end solution in the rehabilitation of men in the country that includes skilling, reskilling, and entrepreneurship and job placements.