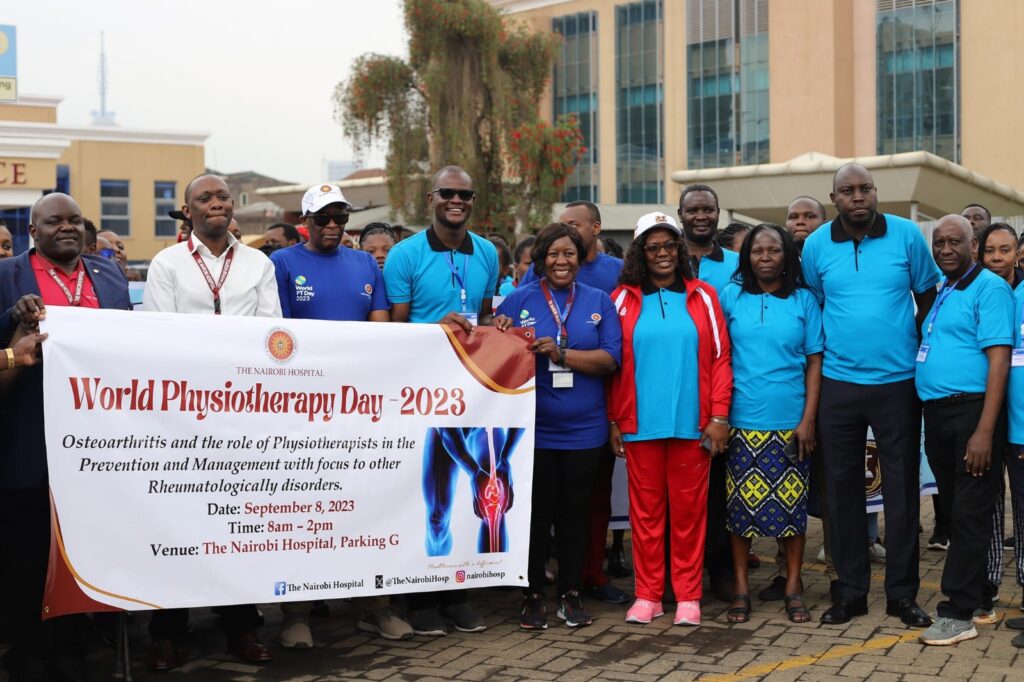 By Benard Mulwa
Even as the government is thinking to improve the quality of health system service in all public and private health care facilities under the Universal Health Coverage programme, Kenya medical training college (KMTC) students, staff and physiotherapy experts in Nairobi today held celebrations at Kenya medical training college Nairobi campus grounds in a bid to generate awareness about the significance of early diagnosis, increase access to people livening with inflammatory arthritis and the crucial contribution physiotherapists make to society.
Mr. Henry Opondo, the President, Kenya Society of Physiotherapy said physiotherapy is a very critical profession which needs a lot of advocacy and awareness for the general public to realize its significance. "Physiotherapy largely prevents the side effects of drugs commonly used muscle reluctant and pain killers" he said, The Kenya medical training college have implemented higher diploma and short courses for students taking Physiotherapy studies at the college. However, he said the trainings needs to be sustainable and participation of community services and activities to escalation advocacy in physiotherapy.
The Deputy Registrar quality assurance at Kenya medical training college, Mrs. Lucy, said quality is of paramount and thus all health workers receive a systematic training at the institution, "People don't talk about physiotherapy but it is the giant that can kill" she said, the management of the institution through the College Principal, is looking to develop a curriculum to enhance the students capacity to take physiotherapy health care to people.
Dr. Nyawira Mwangi, the Deputy Director at the Kenya Medical Training College challenged the Ministry of health to strengthen this kind of training saying Physiotherapy is very dynamic and it plays a promoting role in health through exercise, Physiotherapy has a relationship with disability.
The rehabilitation services reliefs from arthritis pain, mobility problems, treatment for a sports injury, and rehabilitation after injury or surgery among many others.
Dr. Nyawira also praised the Kenya Society of Physiotherapy for its deliberate efforts to give back to the community yesterday at the Kenya Medical training College grounds where they offered free screening and assessment to the public.
The Chief Physiotherapy also observed the important roles played by other private consultant physiotherapists at the World Athletics Championships in Budapest to the Kenyan team, to the police and military forces across the country saying physiotherapy services can reduce diseases and disability.