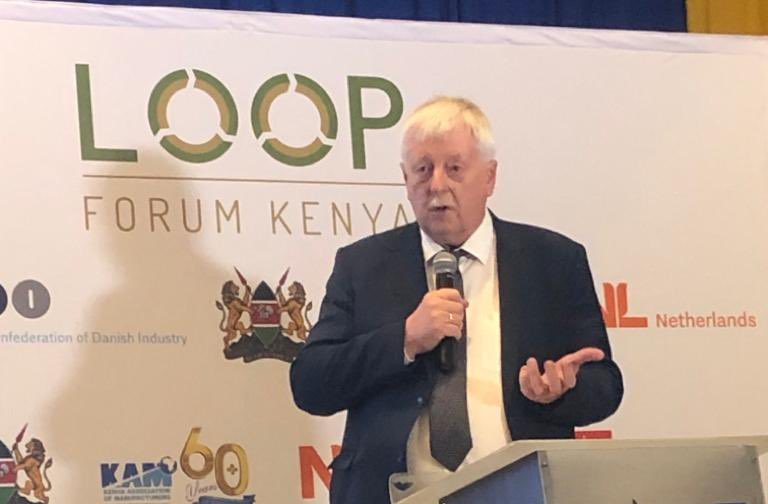 Ambassador. Maarten Brouwer, Ambassador of Netherlands to Kenya
By Benard Mulwa
A delegation of 17 Dutch companies is currently in Kenya to explore various partnership and investment opportunities in port development and the blue economy.
The one-week business mission which is themed "Partnering for sustainable solutions" is part of the Dutch efforts to strengthen the trade and investment relationship between Kenya and the Netherlands.
The mission also aims at stimulating private sector investments in the full logistics chain: from farm to market and empowering Kenya in its ambition to become a regional trading hub.
Currently, horticulture is Kenya's largest foreign exchange earner at around Kshs 150 billion annually. Furthermore, Kenya is the second largest horticultural exporter in Sub-Saharan Africa and the fourth largest flower exporter worldwide.
The Cabinet Secretary for the Ministry of roads and transport Hon. Kipchumba Murkomen said the Kenya Government continues to implement projects aimed at improving connectivity across the country, and decongesting cities and urban areas, "to ensure seamless connectivity, with the aim of improving the coverage of the rail network across Kenya and the region, the Government has committed to construction of the remaining phases of the Standard Gauge Railway (phase 2B and 2C, to extend to Kisumu and Malaba border, he said "We are currently working with the Government of Uganda to connect the Standard Gauge railway to Rwanda and Democratic Republic of Congo, this development will be integrated with development of logistics hubs and industrial parks, and this development is open to Private investments" he adds.
LAPSSET CORRIDOR
Lamu Port South Sudan Ethiopia Transport (LAPSSET) Corridor Programme is a regional multi modal-infrastructure program that integrates roads, railway and pipeline components between the three partner states of Kenya, South Sudan and Ethiopia; and connects the countries to the Port of Lamu at Kenya's coast. The LAPSSET Corridor Program is intended to create a second strategic Corridor opening up the Northern parts of Kenya, connecting her to the partner states of Ethiopia and South Sudan, and in the long term, creating a land bridge between the East and West coasts of Africa.
Hon. Kipchumba Murkomen said the development of the Dongo Kundu Port will significantly enhance our maritime capabilities, allowing us to tap into the immense potential of the blue economy, "It will serve as a key gateway for international trade, connecting our country to global markets and facilitating the movement of goods and services with increased efficiency, he said the Government of the Netherlands and the Government of Kenya intend to collaborate on the development of the Cool Logistics Corridor to facilitate the transportation of fresh produce by sea. The shift will require enhancement of the existing facilities i.e the rail rolling stock, the port and the Inland Container Depots to create a cool logistics corridor from the origin to the port of Mombasa through SGR. There will be required developments like consolidation centers by the private sector investors.
It is worth noting that the sector is a key employer in the country, providing employment opportunities to over 350,000 people directly and another 3.5 million indirectly. Statistics further indicate that more than half the people employed in the sector are women.
Granted, the Kenyan government is actively improving and expanding infrastructure networks, domestically and across East Africa to improve trade flows in the region and internationally.
However, while as the main transport mode for global trade is ocean shipping (about 90%), this is not the case for Kenya.
For Kenya to firmly position herself are the regional trading hub, there is need for the development of the cool logistics corridor that will connect Kenya to the rest of the world.
Sea freight will provide fewer degree hours than for example air freight and fewer moments of stress to products.
For instance, flowers that are correctly transported by sea are ultimately of better quality and have a longer shelf life throughout the entire chain.
Secondly, the logistics sector is moving towards carbon neutral practices. Sea freight export holds great opportunity in supporting this green transition as carbon emissions are up to 80% lower for sea freight compared to airfreight.
Speaking at the event to kick start the activities of the Trade Mission on Port Development, Ambassador Maarten Brouwer noted that the Embassy of the Kingdom of the Netherlands will champion the development of a Cool Logistics Corridor since it is a strategic project that will catalyze Kenya's economic development.
He applauded the Kenyan Government for prioritizing the development and improvements of the logistics infrastructure, adding that this will facilitate the transportation of fresh produce and improve trade efficiency between Kenya and Netherlands.
The Netherlands remains among Kenya's top trade and investment partners. Kenyan exports to Netherlands have more than doubled over the last 10 years to stand at Kshs 69.7 billion in 2022.
I am happy to note that during the first 6 months of this year, Kenyan exports to the Netherlands are at nearly Ksh 40 billion, a sign of continuing growth." Said Amb. Brouwer.
The further development of sea, rail and road infrastructure is critical to Kenya's position on the African continent in global value chains, as logistics are a key driver for trade.
This position is crucial for Kenya as the African Continental Free Trade Area (AFCFTA) is gaining traction. The visiting Dutch delegation comprises of companies with expertise in port development, dredging, transport and logistics, water engineering, warehousing and distribution