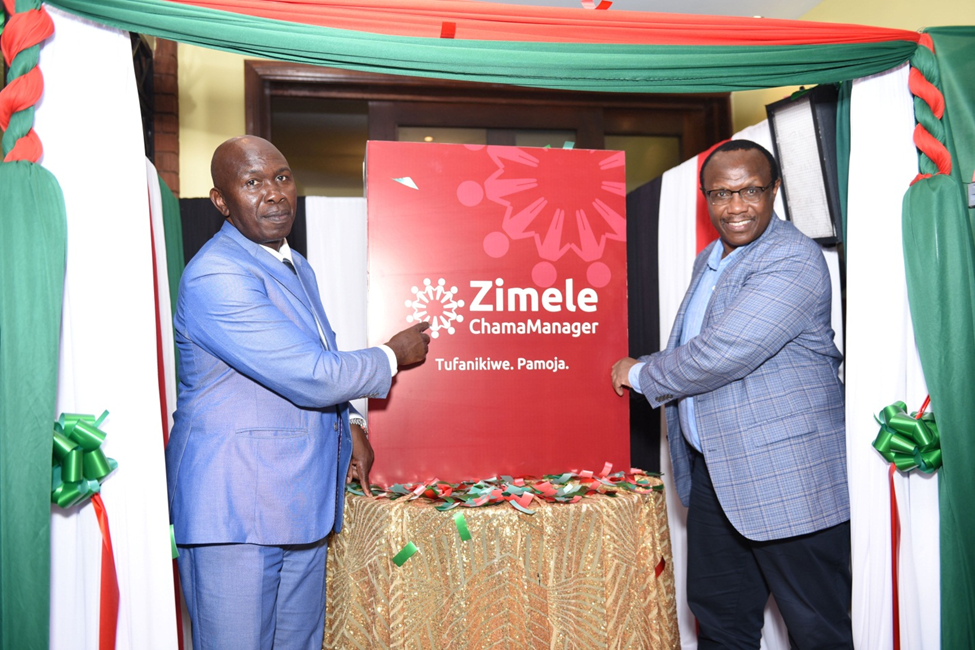 From Left: Capital Markets Authority CEO, Wycliffe Shamiah and Zimele Asset Management Chairman, David Ndii officially launch the Zimele ChamaManager platform
By Benard Mulwa
Chamas will now get a relief from the administrative processes and record keeping by the introduction of a digital investment platform, this comes as the Capital Market Authority (CMA) launches Zimele ChamaManager today.
Zimele ChamaManager is a product which focuses on how to mainstream Chamas and assists the retail investors by bringing them closer to where they get financial service and help them on how to invest the funds better for returns.
The platform comes with efficiency, flexibility, and transparency as all members of a chama will have access to the web-based platform. They will be able to access the chama's account statement as well as their individual statements and will even get an alert anytime a transaction is initiated from the chama account.
Unveiling Zimele ChamaManager, Asset Management Joint CEO Isaac Njuguna said "In our 25 years of service, financial inclusion has always been at the core of our strategy. As a company, we have always endeavored to not only give our customers access to practical savings solutions at modest entry levels but also provide them with innovative products that are tailored to meet their savings and investment needs".
The launch coincides with Zimele Asset Management's 25th-anniversary celebration officiated by CMA Chief Executive Officer Wycliffe Shamiah who commended the company for spearheading innovative investment solutions that are geared towards financial inclusion.
A Chama can open a Zimele savings plan account and manage it on the Zimele ChamaManager platform. Once the account is opened, a member can contribute to their account via mobile money or bank transfers. The signatories are able to initiate withdrawals to members or make payments when the Chama makes a purchase or investment are sent to a recipient's mobile phone wallet or bank account.
"Our role as CMA involves not only regulating but also facilitating the development of the capital markets. Today, we come together to applaud Zimele's remarkable 25-year journey of development. Consistent performance and commitment to excellence. Amidst the tough operating domestic and global macro-economic environment, Kenya's capital markets has remained stable. Assets under management for collective investment schemes have grown steadily over the last six years by KES. 265 per cent from KES. 56.6 million in March 2018 to KES. 206.7 billion as of September 2023. Similarly, Zimele's asset under management has grown tremendously by 220 per cent from KES. 895 million in March 2018 to KES. 2.9 billion as of September 2023. This is proof of Zimele's remarkable efforts and outstanding growth," said CMA CEO Wycliffe Shamiah.