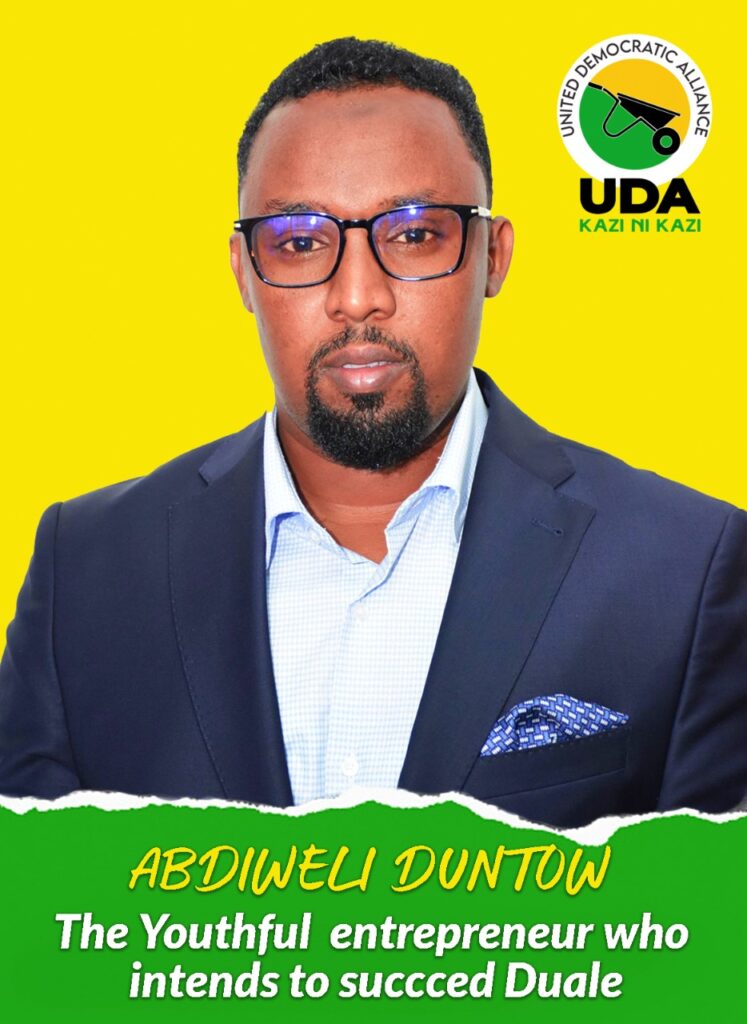 By Steve El Sabai
As the National Assembly former majority leader Aden Duale climbed the ladder after being appointed the Defence Cabinet Secretary (CS) a youthful entrepreneur Abdiweli Duntow has thrown his hat into the ring to succeed Duale as the Garrissa Township Member of Parliament (MP).
Duntow is seeking to succeed Duale on the ruling United Democratic Alliance (UDA) ticket running for a political seat for the first time in his life.
The youthful businessman is popular in the constituency owing to his philanthropic work and development projects.
Duntow is on record of paying school fees for children from needy families, paying hospital bills to patients unable to pay, sinking of boreholes to quench the thirst of the residents in the area which suffers from water scarcity and supporting youth and women groups in income generating initiatives.
Duntow is a darling of the youth through promotion of sports and development of talents as well as initiating income generating projects geared towards supporting jobless young people in poverty alleviation initiatives.
Duntow initiated development in the area without undermining Duale or showed any signs of trying to oust him as MP but worked together as development partners of Garissa Township constituency.
Now that Duale has exited the scene, Duntow wants to fit into his shoes and take up from where Kenya's incoming Defence Cabinet Secretary left.
"I have been tried and tested through the development initiatives that I have been initiating despite the fact I was not an elected leader. I know Garrissa Township constituency's terrain very well and can be trusted to govern the area effectively as an MP. I worked with Duale and can be able further his agenda for the constituency blended with mine for a masterplan," said Duntow.
Duale is leaving his post as MP after serving Garrissa Township for three uninterrupted terms after being appointed by President Dr William Ruto to serve as a Defence Cabinet Secretary.
Duale was a former Majority Leader of the National Assembly of Kenya under the Jubilee Party in the 11th parliament serving from 2013 to 2017 and the 12th parliament where he partial served at the same position until he was impeached for supporting the current president, Dr William Samoei Ruto who was then serving as the Deputy President (DP).
He was elected first in 2007 under the Orange Democratic Movement (ODM) party. He ditched ODM in 2012 and helped Ruto to form the United Republican Party (URP) whose ticket he was elected as the MP representing Garissa township constituency and in 2017 under the Jubilee Party.