By Maximilla Wafula
The civil society wishes to express its position with regards to the emerging political situation and the state of the nation. We are concerned about the high cost of living which has placed food and basic necessities out of reach for many Kenyans.
Secondly, many Kenyans are grappling with an intensifying drought that has led to deaths, yet the government has not provided meaningful relief to communities suffering from severe drought in parts of the country. Drought has remained a perennial problem and is a governance issue.
Further, we are equally concerned about the wave of careless utterances and calculated political
events happening across the country. We note that nothing happens in isolation and reiterate that these are part of a grand scheme to test the democratic resolve of the Kenyan people – the most significant being a proposal to remove the term limit for the presidency.
We wish to call out the recent outburst by Fafi MP Salah Yakub calling for Constitutional
amendments to remove the Presidential term limit and replace it with age limit which creates the tenure for dictatorial regimes as seen in the sub-region.
We are aware that these schemes are a primer for future attempts to mutilate the Constitution. This
comes amidst the background of the continued non-compliance and disregard of the constitution
by the Kenya Kwanza regime barely 3 months in office. We therefore call on all patriotic Kenyans to stand in defense of the constitution, and not cede an inch of our sovereignty as a people.
We wish to remind Kenyans of our dark history, especially under the KANU regime, where an imperial presidency emasculated both parliament and the judiciary – effectively creating a corrupt
dictatorship that made Kenya stagnant for decades.
We are also appalled by the systematic acts of impunity and blatant disregard for the rule of law that has seen heinous violations targeted at innocent Kenyans.
A few days ago, Kenyans watched in horror as a family was evicted from a house they have owned for the last 46 years in Nairobi's Westlands area under unexplainable circumstances. That the
police allowed this act of thuggery to happen despite there being a court order and a notice from the Nairobi County Government stopping the demolition/eviction should be very worrying for Kenyans. Such unabetted criminal acts must never be allowed to happen in this country, for they are a reversal of the gains we have made over the years. We demand justice for the family of Avani Shah, whilst also demanding that those responsible be brought to book. We urge all Kenyans to remain vigilant, for such acts are likely to become commonplace over these coming years.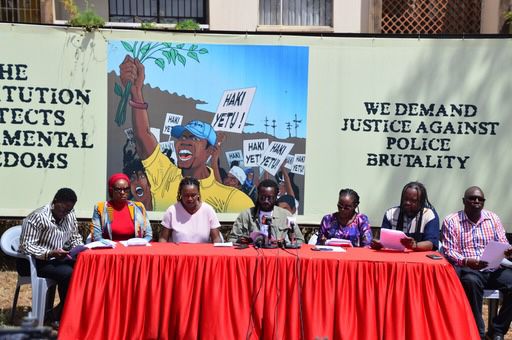 We are equally concerned by recent remarks by the Cabinet Secretary for Education, Ezekiel Machogu who is on record stating that universities should generate their own revenue as the Government of Kenya
would no longer fund them. Education is a right and must be made accessible to all Kenyans. This
attempt to consign rights from public governance to private interest is ill-advised as it will result in increases in tuition fees – making university and college education out of reach for millions poor Kenyans.
We therefore urge the ministry of education to come up with realistic and workable solutions to the financial crisis facing our institutions of higher learning, many of which are unable
to pay staff or remit staff pensions and other statutory deductions.
Lastly, we wish to express concern about the pilots' strike and the inability of the Kenya Airways management to meaningfully resolve the impasse. Apart from crippling the national carrier, the strike has also resulted in untold anguish many travelers and disruption of supply chains, especially
for the agricultural sector where many Kenyans have been earning a living.
The Kenya Airways
management must move fast to address the pilots' grievances in a manner that is respectful of labor
laws. The right to organize and participate in industrial action is guaranteed in the constitution
under Article 41 and should not be curtailed in any way.
Kenyans are facing many more problems and challenges in the counties, towns, neighborhoods
and villages that they live in. From extrajudicial killings to a spate of day light muggings that
foment fear for hard-working people in the affected areas, insecurity has intensified in parts of the
country resulting in the deaths of innocent Kenyans. We urge the security apparatus to step up vigilance in stemming these needless killings.
We take this opportunity to once again condemn in the strongest terms the current wave of careless political rhetoric and breakdown of governance processes that seek to reverse the gains of the
Constitution and take us back to the dark days of the KANU regime.
Kenyans must remember that this is our country, and that we must remain vigilant for we have a
collective responsibility to create a better society for ourselves and for future generation.
Ends ….