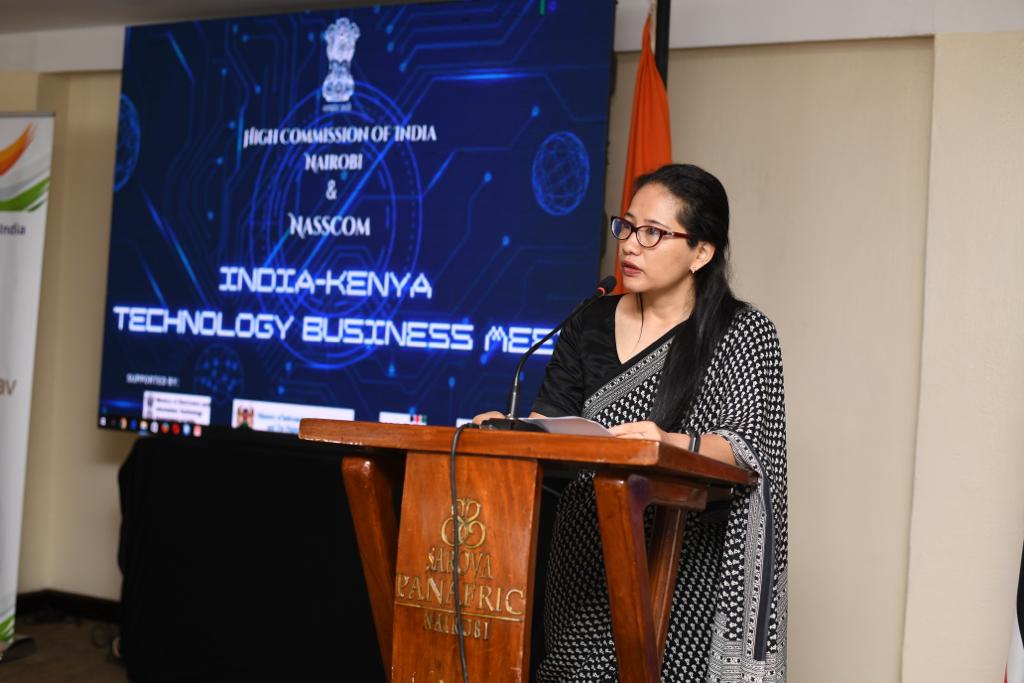 by Maximilla Wafula
High Commissioner of India Namgya Khampa , accompanied with Mr Shivendra Singh, Vice President and Deputy High Commissioner of India Mr. Rohit Vadhwana & DPR to UNEP & UN – Habitat adrsses the delegation and other officials during the technology business organised in connection with the visit of NASSCOM delegation .
It is particularly important to note that this forum brings together Government and business with specific interest in the ICT and related sub-sectors.This is because ICT and associated technologies and applications can be key multipliers in accelerating economic growth in developing countries. In this regard, I believe there is substantial convergence of interests and opportunity for mutually beneficial partnerships between India and Kenya in the industry.
As you are aware, 10 major Indian companies are present here to interact and engage with their Kenyan counterparts represented by more than thirty-five companies – with a view to develop new partnerships and tap into investment opportunities.
It is forums like this that have cemented the cordial India-Kenya bilateral relations, transcending into a robust and multi-faceted partnership. Due to this synergy, India remains one of Kenya's major trade and investment partners. FY 2021-22 saw India-Kenya bilateral trade increase 38.7% increase from US$ 1.99 billion in 2020-21 to US$ 2.76 billion. Both exports from India to Kenya and imports from Kenya into India registered significant growth.
India is among the top investors in Kenya cutting across manufacturing, real estate, pharmaceuticals, telecom, IT & ITES, banking among others. As per available data, over 60 major Indian companies have presence in Kenya – some of them are present with us today.
Dear Friends,
ICT and digital economy are the economic drivers for the country. It is contributing over 13% to India's GDP, employing over 4.5 million people as of FY21 and exporting a total of US$ 149 billion worth of IT enabled Services. India's IT industry, creates roughly US$ 200 billion in economic value yearly through IT-BPM, e-commerce, domestic electronics manufacturing, digital payments & communication services and other ICT-related activities. Driven by digital technology, cyber security, AI, robotics and healthcare IT, India's digital economy is predicted to be worth over US$ 800 billion by 2025, contributing 10% of GDP.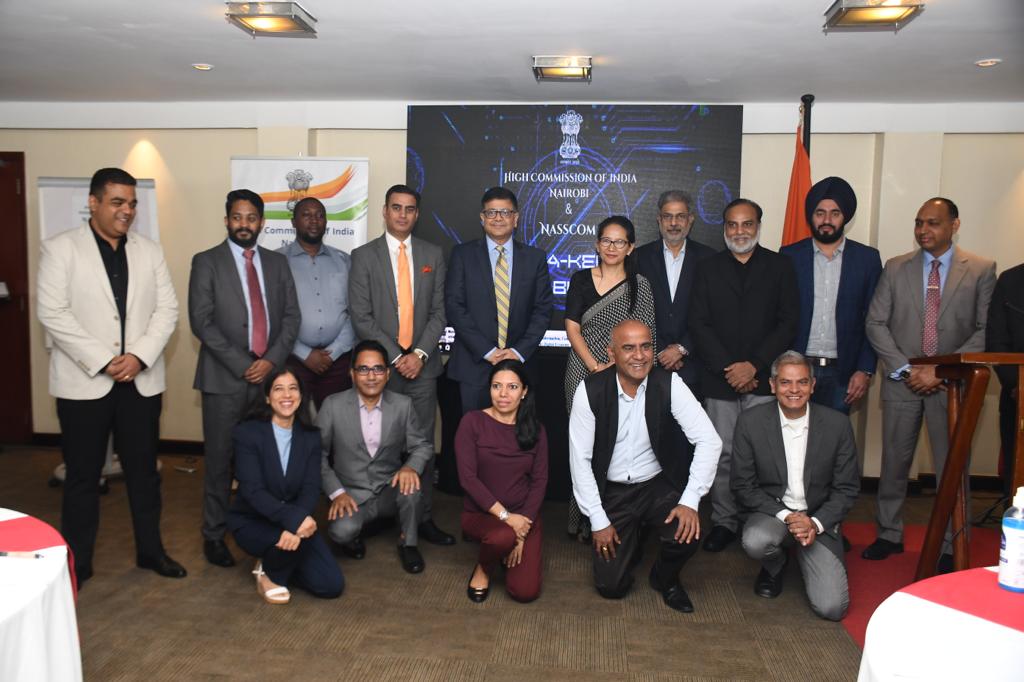 India is already considered the IT hub of the world but it has more potential and talent. To tap into it, Government of India has come up with several initiatives to give impetus to the sector. Digital India for instance aims at transforming India into a digitally enabled society and knowledge economy. Make in India campaign on the other hand seeks to facilitate investment, foster innovation, enhance skill development, protect intellectual property & build best in class manufacturing infrastructure.
IT has helped India to provide Aadhar – Unique identity number – to almost everyone in the country – approximately to 1340 million people. Backed by digital banking, Unified Payment Interface (UPI), country has created a robust digital infrastructure, biggest in the world. We will hear more about this in the detailed presentation of NASSCOM.
On the other hand, an evaluation of Kenya's ICT sector pre-pandemic status reveals a relatively robust industry with average annual growth rate of 10.8% from 2016-2019. Also referred to as Africa's 'Silicon Savannah', Kenya is a regional leader in internet connectivity, value-added services (most notably mobile money transfer) and mobile banking services. Post the pandemic, accelerated by increased uptake of online services, the sector contributed 4.8% to Kenya's GDP and about 21,000 direct jobs last year according to the Economic Survey 2022 report. Total output of the sector was US$ 5.32 billion in 2021. The main growth drivers in the sector are fibre-optic subscriptions, 4G mobile network coverage, mobile commerce transactions, undersea bandwidth capacity and mobile money transfers. On this aspect also, we look forward to hearing more from KenInvest and Institute of Economic Affairs who will make their presentations.
I believe our both economies have already proven potential in the IT sector. With educated talent pool, English speaking population, knowledge and base for digital infrastructure, our two countries are best suited to partner in this sector. Joined together, we will be able to provide technology enabled solutions not only to India and Kenya but to whole of Africa and the world.
High Commission of India facilitates B2B meetings, Government to Government level institutional mechanisms, industry bodies interactions such as FICCI and CII (from India) and KNCCI, KAM and Keninvest (from Kenya). NASSCOM delegation visit adds more opportunities for both the countries to work together.
Before I conclude, I take this opportunity to thank the Ministry of Electronics & IT, Government of India, Ministry of ICT and Digital Economy, Government of Kenya, Keninvest, KNCCI, Institute of Economic Affairs for their invaluable support in organising this meeting. Special mention goes to NASSCOM, led by Mr. Shivendra Singh, Vice President, Global Trade Development for making this very important meeting successful.
I hope that everyone present here will take full advantage of today's discussions to network and form lasting business relationships. I wish you all the very best in this endeavor.
Ends…