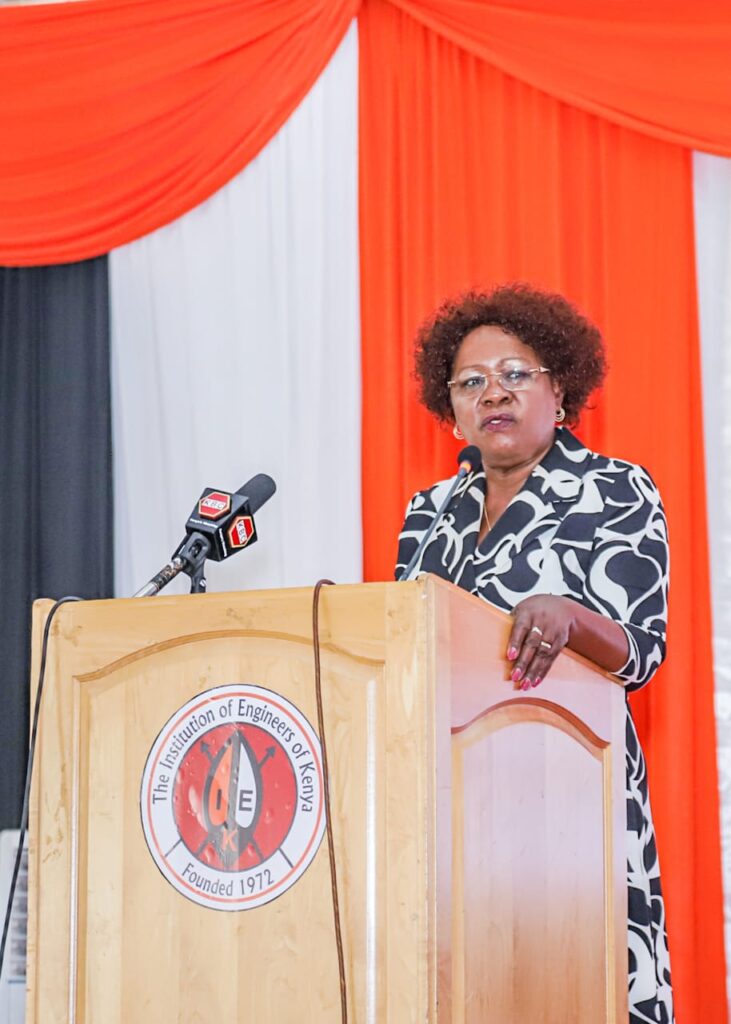 by Maximilla Wafula
Cabinet Secretary, Ministry of Water , Sanitation and Irrigation Hon. Alice Wahome today joined the policy makers , practitioners , academia and stakeholders drawn from the engineering industry in the local and international arena in the opening of the 29th IEK
International Convention Conference in Diani Reef Beach hotel, kwale County . She applauded the Institution of Engineers of Kenya (IEK) together with its
collaborating partner, the Engineers Board of Kenya (EBK) for making it possible to bring together key players and thought leaders in areas of engineering and engineering affiliates to discuss, deliberate, critique and exchange knowledge around the convention theme of "Sustainable
Engineering in the Era of Climate Change".
The Kenya Kwanza Government Plan is to bring down the cost of living, eradicating hunger, creating jobs, expanding the tax base, improving our foreign exchange balance, and inclusive growth. She outlined out the
government key priority areas which include ; Agriculture, to boost value chain through blending & branding and move from rain fed to irrigated
agriculture; on Micro, Small and Medium Enterprise (MSME) economy, to
establish MSME Business Development Centre in every Ward, and an industrial park and business incubation centre; on Housing and Settlement,
to Increase supply of new housing to 250,000 per annum and percentage of affordable housing supply from 2% to 50% and to ensure progressive
realization of the human right to water, sanitation and Irrigation and food
security.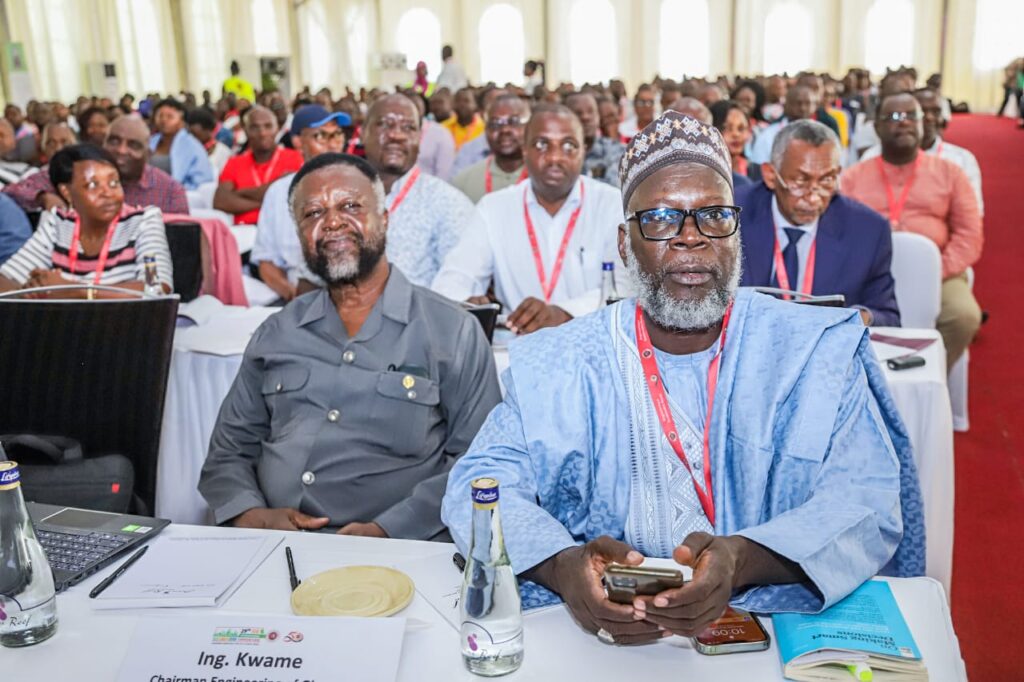 Healthcare perspective, the government intends to integrate Information Communication and Technology systems to enhance telemedicine and health management information systems; and on Digital
Superhighway and Creative Economy to construct 100,000km of national fibre optic connectivity network which will increase and fast-track
broadband connectivity across the country .
Further, the Cabinet Secretary Hon. Alice Wahome emphasized that beyond the overdue, legitimate and priority concerns of resilience, mitigation, loss and damage, Africa
offers unique potential to play an indispensable positive role in the planet's
climate future. Africa's vast tracts of land, deep treasures of diverse natural resources, tremendous untapped renewable energy potential, and a
youthful, dynamic and skilled workforce constitute the continents
irresistible credentials. Opportunities abound in Africa, such as green
energy, smart agriculture, de-carbonized manufacturing, e-mobility and
green building, all aimed at the attainment of zero carbon by 2050.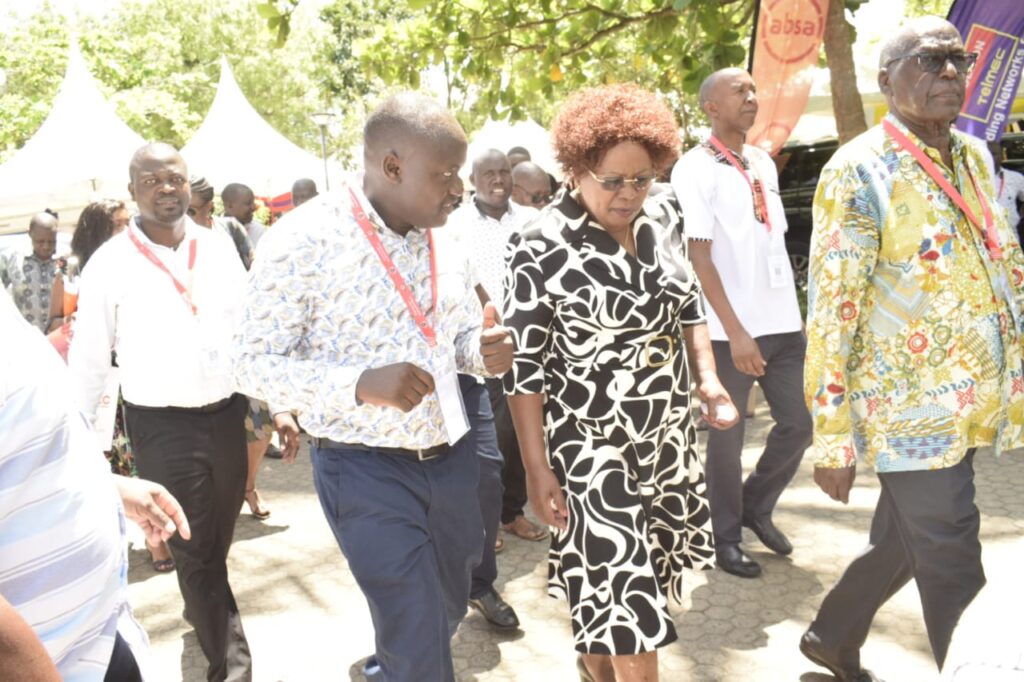 The theme for this 29th IEK Annual International convention,
"Sustainable Engineering in the Era of Climate Change," speaks
directly into the bigger picture that His Excellency presented at COP27. Climate action is an ongoing process, not an event, and it requires
extraordinary collaboration from a multi-disciplinary professional
undertaking. Such convention provides a critical opportunity for
policymakers, industry experts, academicians, scientists, engineers,
students, other professionals, business community and government
leaders to double on their climate goals, forge new collaborations, and egenerate enough clean energy for the whole
continent
Engineering is a very important and learned profession . Members of the profession recognize their work that has a direct and vital impact on the quality of life for all people, profession engineers must perform under a standard of
professional behavior which requires adherence to the highest principles of ethical conduct on behalf of the public, clients, employers and the profession.
She was more concerned about events that led to unnecessary loss of life,
more so, where such situations are under the specific control and order of appropriately trained, skilled and qualified personnel. The public outcry of collapsing infrastructure leading to an unnecessary loss of
human lives need to be taken seriously by all the stakeholders, some of
whom are gathered here today. Besides loss of lives, such unnecessary
collapse of infrastructure impacts the economy and equally results in
loss of investor confidence.
She urged all players in infrastructure development, be the
investors, county governments, private sector, contractors, or the general
public to engage professionalism at all levels of the value chain. As the government commits to work closely with the Institution of Engineers of Kenya (IEK)and the Engineers Board of Kenya (EBK). Ministry will look into the matters raised by the engineering profession .
Enhancement of capacity building of engineering professional by providing a percentage of project costs to be applied for graduate Engineers internship, masters, and PhD of engineering in
specialized and emerging fields like bio-medical engineering.
Sustainability in this era of climate change is our challenge and each one
of us individually and collectively have a role to play in saving this planet and the people. We owe the society a solution to these global problems
for which you are entrusted with the relevant education, training, and
qualification.
looking forward to fruitful engagement in this Convention and it is my
singular honor to declare this Convention officially opened.
Ends ……