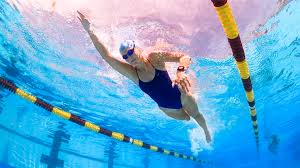 By Fred Maingi
About 30 glamour teams from Kiambu, its environs and Mt. Kenya region have confirmed participation in the upcoming Kenya Swimming Federation Kiambu County Level 2 Invitational Swimming Championship scheduled for 11th and 12th February, 2023 at Mpesa Foundation Academy in Thika.
Shadrack Mutiso – KSF Kiambu Competition Secretary told the medias that he is anticipating a thrilling contest as the gala will attract experienced swimmers who will battle it out with upcoming swimmers who trained hard and extensively during the Festive season.
Coach John Otieno, head of Mpesa Foundation Academy Team said he was upbeat that his squad would clinch top prizes in the upcoming gala since his team has been under intensive training since they opened the school in January.
"We have been in full swing action and I have a team capable of causing havoc in the event, " said Otieno.
Alliance High school, and hosts Mpesa Academy, are among the top cream in the region expected to feature in the one day gala event.
Other glamour teams expected to show fireworks include Maryhills Girls, Mangu High, Pioneer Boys, Kiambu High, Wadi Degla, Crawford International School, Woodcreek School, and Regis School Runda.
Other participants include Potterhouse School Runda, Brookhouse School Runda, Peponi School, Gold Fish, Sea Horses Aquatics, Torpedo Eldoret, Kisumu Sharks, Bandari, Juja St. Peter's, Thika High, Super Marlins, Thika Sharks, Mt. Kenya Academy, Meru Dolphins, JKUAT, MKU, Gretsa, Zetech,and Kenyatta University among others.
The gala according to Kiambu Swimming Federation Boss Stanley Kabiru is exoected to produce fireworks and thrilling moments.
The event will be used to assess the swimmers who will be headed for NCAA Level 3 Swimming Championship that will be held at Makini on 25th and 26th February. Moreover,Kabiru added, the invitational gala will be used to help the swimmers gauge and improve their timing ahead of Kampala Invitational Swimming Championship and Hamilton Aquatics Development Swimming Championship in Dubai. These competitions are part of KSF Kiambu's vision of growing the popular sport of swimming in Kenya.
The Federation has encouraged the parents, coaches, clubs and schools to sign up for the upcoming international trips that aim to expose the swimmers talents.
The trips will also aid in encouraging best practice in both training and racing, promoting a 'process driven' approach to the sport and enhancing the arena skills of the athletes involved.