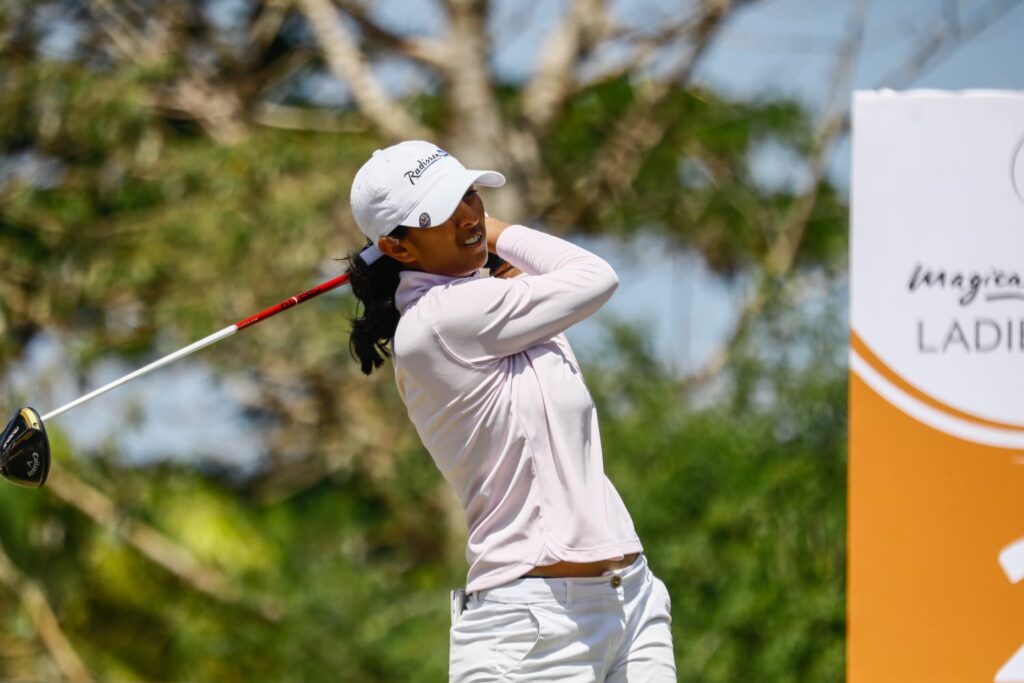 by Maximilla Wafula
Two-time Olympian Aditi Ashok of India took command of 2023 Magical Kenya Ladies Open on Day One at Vipingo Ridge in Kilifi with a score of six under par, 67.
The 2019 runners up hit birdies on holes 2, 5, 6, and 9 on the front nine. She added more birdies on holes 11, and 13 on the back nine, giving herself a 4-shot lead heading to the second round of the tournament on Friday.
"I hit some really good shots and got some good birdies which have helped put me in this position. I missed a couple of putts because I hit them really close, and so that's what I am going to be looking to improve on in the next three days," said Ashok.
Tied in second position are seven players including Italy's Virginia Elena Carta and Ana Trivino of Spain, Kylie Henry (Scotland), Isabella Deilert (Sweden), Marta Sanz Barrio (Spain), Alice Hewson (England) and April Angurasaranee (Thailand) who finished on two under par, 71 each.
However, it was a bad day in the office for defending champion Esther Henseleit of Germany who is looking for her third title here in Kenya.
The German ended the day in 41st place alongside Kenya's Chanelle Wangari on four over par, 77. Henseleit bogeyed holes 9, 14, 15, and 17 during her quest for the title defence.
Wangari was the best placed Kenyan on the day. She cruised well in the front nine but lost shots on holes 16, 17 and 18 to go over par. Wangari had birdies on holes number 2, 7, 9, and 15, but bogeyed holes 4, 5, 8, 12, 13, 16, 17, and 18.
Despite the disappointment, Wangari is still optimistic that she will make the cut on Friday. Commenting on her round, she said; "I have been doing my practice and so I was quite confident going in to the round. The greens were faster than I thought they would be, but overall, I am happy about my performance. I am hoping to play better tomorrow and make the cut after round 2."
Meanwhile, former Kenya number one Naomi Wafula finished her round on six over par, 79. She was followed by Mercy Nyanchama and Jacqueline Walter who both fired ten over par, 83 as Nancy Wairimu finished last in Kenya's ranking order on 12 over par, 85.
Round Two of the Magical Kenya Ladies Open begins tomorrow at 8:00am. Spectators are encouraged to buy tickets via Ticketsasa and come to support the ladies on the second and pivotal day of the tournament.
The tournament is sponsored by among others, the Ministry of Sports, EABL through its Johnnie Walker brand, Safaricom's Mpesa, Huawei, KCB Group and Visa.