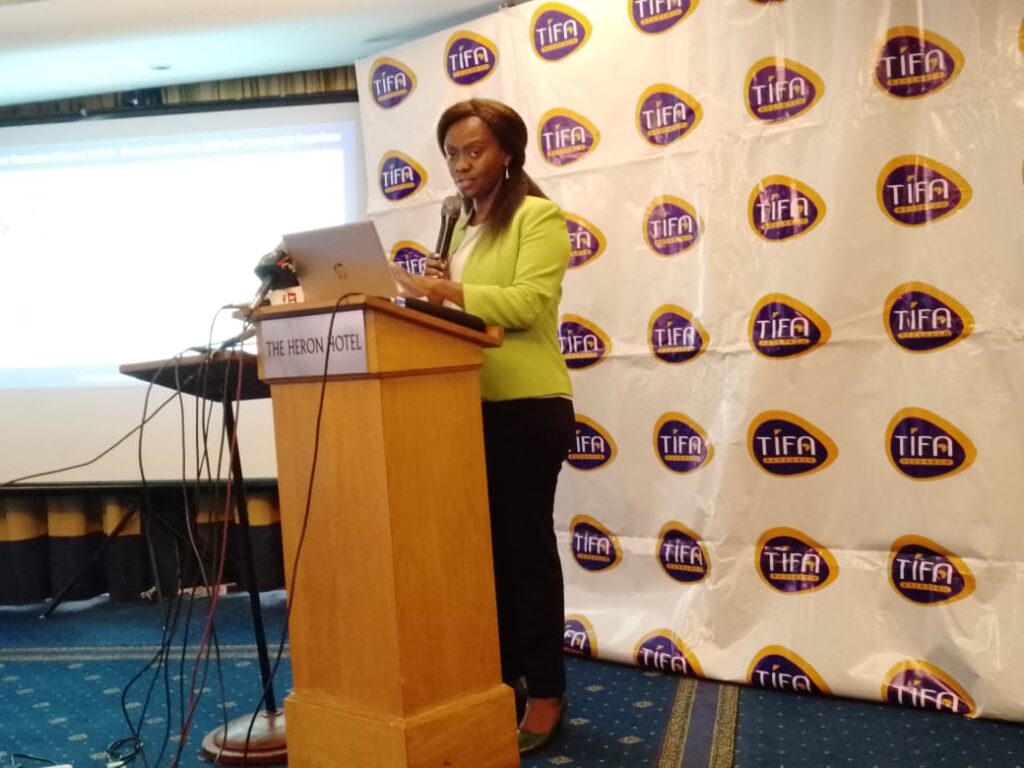 by Edna Okoth
TIFA Research has released their second poll, dubbed 2023 Current Issues Survey, whose focus is on Kenya's Direction and Ruto/ Kenya Kwanza Government Performance.
Speaking during tje presser,TIFA Chief Executive Officer Maggie Ireri, noted that the report specifically included; the direction that Kenya is heading, achievements of Kenya Kwanza's Government, failures of Kenya Kwanza Government, overall performance rating of the Government in fullfilling its campaign promises and best performing Cabinet Secretaries.
"The poll reports that the percentage of people suggesting that Kenya is heading to the wrong direction is 56% in June,which has increased as compared to that in March which was 48%, those who are neither of the wrong or right direction also increased by 2% from 12% in March to 14% in June and those who were of the opinion that Kenya 8s heading to the right direction decreased by -12% for in March it was 37% compared to June which is 25%," explained Maggie Ireri.
She also listed that some of President Ruto's Government top achievement include launching of the hustler fund, reducing fertiliser cost,taxation policies to help in debt payments and improvements in the education sector while their top failures include increased economic hardship that has increased from 37% to 52%, failed campaign promises that gas reduced from 14% to 7%, increased corruption, increased insecurity among others.
The research also indicated that Kenyans believe that the achievements by the Kenya Kwanza Government has reduced between March and June with over half of Kenyans saying that the Government has achieved nothing on the same the research mentioned that the perceived extent Ruto's Government had fulfilled campaign promises has an overall mean score rating of a Cplus(C+).
"In terms of its perceived failures, there is widespread agreement that continuing if not increasing economic hardship is at the top of most Kenyan's minds across the political divide,though the failure to fulfil campaign promises as well as various economic issues aside from such promises also received considerable mentions," added Maggie Ireri.
The CEO also explained that the release covered the best performing Cabinet Secretaries where the most mentioned is Interior CS Prof. Kithure Kindiki at 34% with only two others receiving more than minimal such positive recognition: Education CS Ezekiel Machogu having 7% and Health CS Susan Wafula at 6%.
"Likewise,nearly one third f pro- government respondents are unable to cite any achievements of their government even if more than twice as many pro-opposition respondents refuse to acknowledge any such achievements (31% vs 70%) and in terms of Kenya Kwanza Government failures only a quarter of its supporters considers there are none (24%) with almost as many of them identifying economic hardship as do opposition supporters (47% vs 58%)," concluded Maggie Ireri.