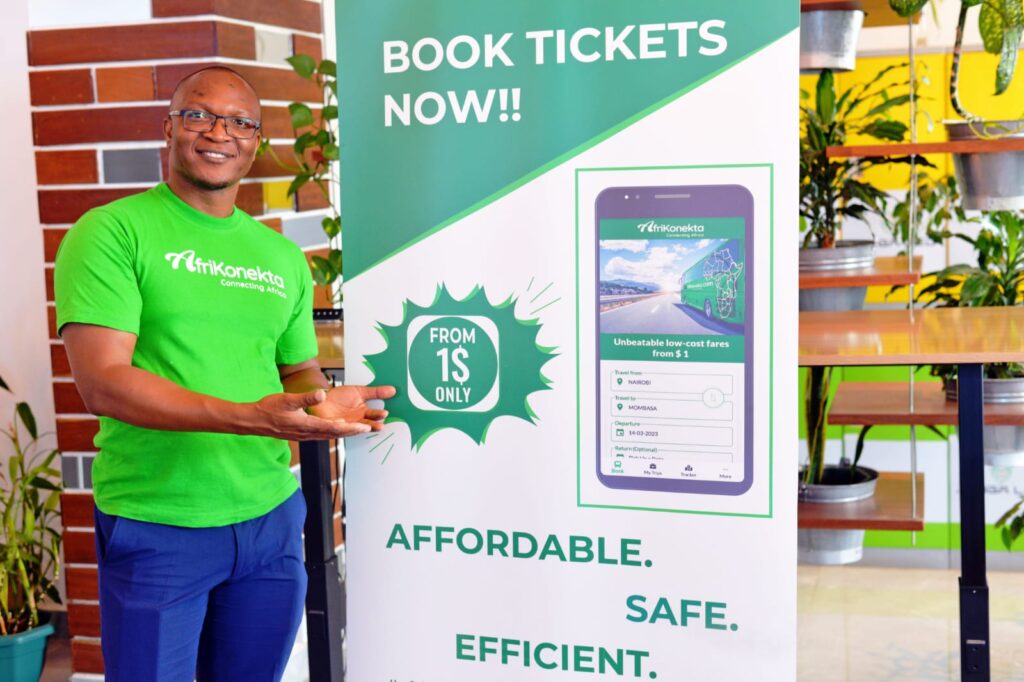 Afrikonekta CEO Tichaona Dande
BY NJOKI KARANJA
Intercity online bus booking platform AfriKonekta has unveiled a $1 countrywide intercity digital bus booking platform, allowing passengers to book bus tickets at a tap of a button. Passengers can book a bus ticket to major destinations around Kenya starting from just $1 or about KSh 148 (today's exchange rate). The platform has also integrated parcel delivery services targeting SMEs, online sellers and person to person (P2P) delivery services was unveiled on Wednesday and streemed live on their social media platform.
Afrikonekta CEO Tichaona Dande says that the platform seeks to build a connected Africa, broader and deeper regional and continental integration. "AfriKonekta was created to build a connected Africa, provide customer focused, low-cost, 'smart' and great value travel which is convenient to book and use. Our emphasis is on connectivity, timetable synchronization, route planning and integration, opening up country, regional and continent-wide transportation system through leveraging technology/digital innovations, e-commerce capabilities, and partnerships to make intercity transportation accessible, comfortable, attractive, efficient, well-connected, reliable, safe, sustainable, and affordable."It targets long distance bus operators with routes from Nairobi to other towns and vice versa.
Currently, AfriKonekta is covering over 37 destinations (Mombasa, Moyale, Nakuru, Malindi, Busia, Sori, Bungoma, Butere, Siaya, Homabay, Kapenguria, L.Turkana, Bondo, Kisii, Oyugis, Migori, Usenge, Luanda, Ukwala Port, Mumias, Kitale, Mbale, Malaba, Kakuma, Nyamira, Kakamega, Eldoret, Kisumu, among others).The network comprises 1,000 trips per day, 282 stops with over 1,126 signed up vehicles, ranging from 7 to 62 seaters.At current operational capacity, AfriKonekta will be moving between 10,000 and 15,000 people per day depending on demand.The startup has signed about twenty (22) bus operators such as Msamaria Mwema, Nya Ugenya, Salama Bus, Transline Kemera Sacco, Promise Buses, We Travellers Sacco, Eldoret Express, among others.
However, it plans to sign up more players, launch operations in Tanzania, Uganda, Zambia and Rwanda by early next year to expand its East Africa connectivity, continental coverage, and strengthen its inventory of partner operators."With a wide range of express buses and shuttles, night buses, and affordable coaches and executive minivans available on our platform, we strive to give our valued customers an opportunity to grab exciting offers and deals and enjoy discounted trips
Our customers can choose from a wide range of our well-equipped vehicles with modern facilities, check bus schedules, track their bus (GPS tracking) and book bus tickets online from the comfort of their home or office," Dande emphasized."
AfriKonekta is a digital platform for intercity bus travel. With state-of-the-art technology, it provides customers with seamless, safe, secure planning, booking, traveling, and paying experience. Our commitment is to deliver a revolutionary means of travel that make long distance travel in Africa a tech-powered and attractive option. We have studied the best practices of global platforms, added our comprehensive expertise of the long-distance bus industry, and adapted the service to the African market needs," Said Dande.
The service, which can be accessed on an App, Web, WhatsApp or via a toll-free phone call will allow travelers to book their tickets, choose seats and pay digitally, cutting the need to visit physical bus booking stations.Accepted payment methods include mobile money, credit/debit cards, and electronic bank transfers.Apart from online ticket sales, the platform also provides consumer apps (Apple and Android), reseller apps, back-office tools for operators, business intelligence reports, driver apps, and operators' counter and staff sales channels.
"We provide bus partner operators with technology to automate processes and streamline behind-the-scenes booking management, eliminating the analog booking and management processes. While online bookings for bus operators has become easy, much of the behind-the-scenes processes of managing their operations remains manual and labor intensive," Dande said. "We are thrilled to join forces with bus operators to further accelerate our journey to empower them to optimize & digitize their operations, maximize revenue collection and cut costs at the same time."AfriKonekta's key partners are small and medium size bus operators. These operators typically don't have access to modern digital tools.
Therefore Digitalization accelerates their business growth, gives them more efficient sales channels, better customer experience, better visibility to actual sales, and tools to predict demand and use their vehicles more effectively," Dande continues. Muhamad, one of the bus operators and owner of Salama Bus which is also on the platform, re-iterated the significance of digitalization in streamlining his operations. Intercity bus travel is an area of untapped potential in Africa.
In the absence of better rail facilities and air transportation, over 90% of all passenger traffic is completed by road transport (bus and private cars).AfriKonekta Mobility Oy is a Finnish startup company that is based in Helsinki that was founded by Tichaona Dande and Pekka Möttö.While Dande is from Zimbabwe and currently living in Finland, Möttö is a Finnish citizen. Dande moved to Finland in 2015 to pursue further studies in International Law, Global Politics, Business Administration, and Development studies completing three Masters' degrees.
I'm addition,he has lived and worked in Botswana, Zimbabwe, South Africa, and Finland in various companies including T-Mobile and Amazon.com.The company's journey began in June 2021, when Dande contacted Möttö wanting to share his vision of connecting Africa through LinkedIn. He chose to work with Möttö, who is the founder of Onnibus, Finland's biggest intercity bus booking operator.Before launching in Kenya, Dande emphasizes that AfriKonekta had to understand specific needs of Kenyan operators as well as local passengers.
During the 6 months pilot phase the company sold over 45 000 tickets."Our vision is to provide tools and processes for African bus operators to prosper and grow starting from Kenya," he adds.Möttö says he was deeply impressed with Dande's vision and ambitious plan. "Having initiated the digitalization and new business model in the Finnish bus industry and seen with my own eyes the rapidly growing passenger numbers and rejuvenation of the industry, it was easy for me to get excited and share Tichaona's vision," he says.
Dande and Möttö are excited about the launch in Kenya and are preparing to scale to new countries . "Most importantly, it is about improving the operator's profitability, resources management, data-based workflows, customer engagement & communication, intelligence business reports, safety, and security of travel, the inclusion of more passenger groups, and ultimately better sustainability by enabling the operators the financing of new vehicles through partnerships with financial institutions," he concluded.