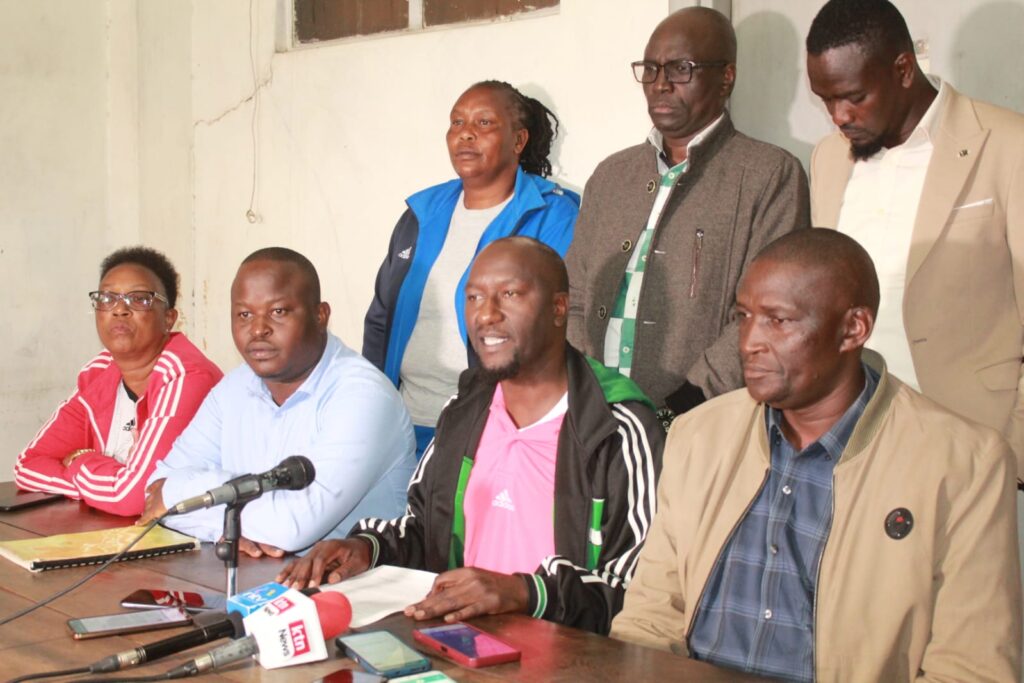 Kenya County Government Workers Union led by Calvin Okello Assistant Secretary, Festus Ngari City Branch Secretary (C) , Steve Ogesa (L) Vice Chair, Grace Muturi Women Leader ( R ) all seated infront join by John Baraza Vice Staff, Collins Nkoitoi Youth Leader and Beatrice Cheruto at Press Conference in Nairobi
BY NJOKI KARANJA
The leadership of joint branches of Kenya County government representing workers in the county government of Nairobi are disturbed by the on-going and current state of events clearly meant to destabilise the existing smooth operations of Nairobi governor Hon Johnson Sakaja's government.
The faceless cartels in conjunction with some rogue county officials behind these actions are the same people who destabilise the previous regime in their instatiable appetite for squandering public finance for their own self interest and we ask governor Sakaja to resist their evil maneuvers in whatever it takes for we together mist register progress in the services we provide to Nairobi citizens.
Therefore,we offer our full support to the the governor in his efforts to reform and streamline operations at the county finance department. The finance sector headed by CEC Charles Kerich and Asha Abdi should be given necessary support to bring back the neck financial disciplines as envisaged under the law.
We fear that if these cartels have their way,we are lightly to sink back to the days where staff's salaries are divided to pay suppliers and contractors and endless salary delays which we have experienced for the last one year of this administration.
In conclusion, we wish to advice the SRC that they cannot continue discriminating the employees of defunct local authorities every time they want to give advisories.  They are Kenyans like every other public officer and deserve the right to be cushioned  against adverse effects of high costs of living.  They have thwarted all the efforts to review collective bargaining agreement for defence local authority now for 12 years against  the recommended  four years circle.