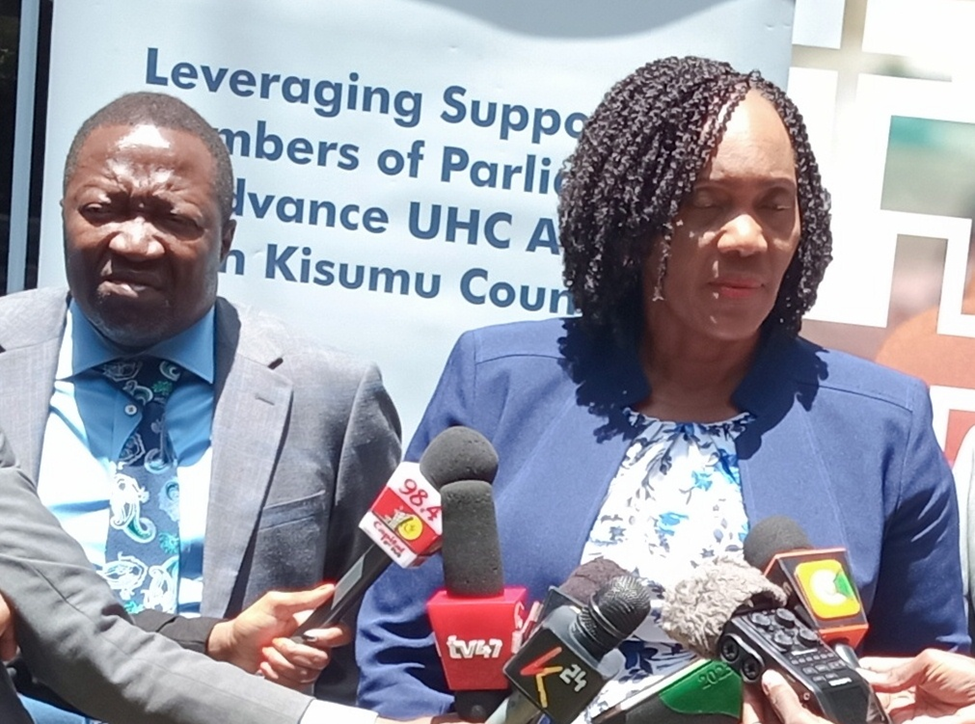 Shinali ikolomani MP and Rosa Mbuya MP Kisumu West.
By Benard Mulwa
A section of Kisumu Members of Parliament and Pharm Access Foundation have signed a deal to advance Universal Health Care (UHC) in Kisumu County which will safeguard people to access medical services without catastrophic expenditures. 
The law makers said they must be part of the discussions in order to know, to lobby and make a budget for the medical credit fund and financial protection program since they play a leading role when for instance when the area citizens passes away through contributing for mortuary and burial and other expenses.
Pharm Access Foundation works in four countries in Sub-Sahara Africa, Kenya, Tanzania, Nigeria and Ghana mainly focusing on safe care, medical credit and health insurance fund and working in collaboration with National Health Insurance Fund (NHIF) has been able to increase uptake by 9.5 percent, 12.5 percent in 2022 to 22 percent in 2023.
In 2006, the Health Insurance Fund was established by Pharm Access, the Dutch Ministry of Foreign Affairs and several multinationals to tap in to private sector potential to introduce public-private health financing schemes for people with low incomes.
In Kisumu, the foundation has wedded the community health strategy at 100 percent. The Kisumu solidarity Health Cover popularly known as "Marwa" which is the Luo word for "ours" is the name of the Kisumu Solidarity Health Insurance Scheme. Marwa is a digitally enabled health insurance scheme under the umbrella of UHC, designed to ensure that the most vulnerable and the non-poor informal sector populations of Kisumu County also have access to affordable and quality healthcare services, whenever they need it, and without suffering financial hardship. Underwritten by the National Hospital Insurance Fund (NHIF), Marwa contributes to UHC by identifying those who can pay and ensuring that they contribute, while subsidising those who cannot. In parallel, Marwa also helps clinics improve their quality. The initiative is an outcome of a MoU between the Kisumu County government and PharmAccess Foundation, whom they asked for support with technical assistance to help set up the scheme.

Shinali ikolomani Member of Parliament said, "with a well-organized system, we can reduce the cost by having few people in need of medical services."
"Marwa" seek to develop and implement the strategy to expand population coverage in Kisumu County to enroll the non-poor informal sector and retain them as members.
Support efforts to ensure that the most vulnerable households remain covered and expansion plans by the Kisumu County Government are rolled out.
Provide technical assistance to the Kisumu County Government on data insights through the digital platforms to drive decision making.
-End.