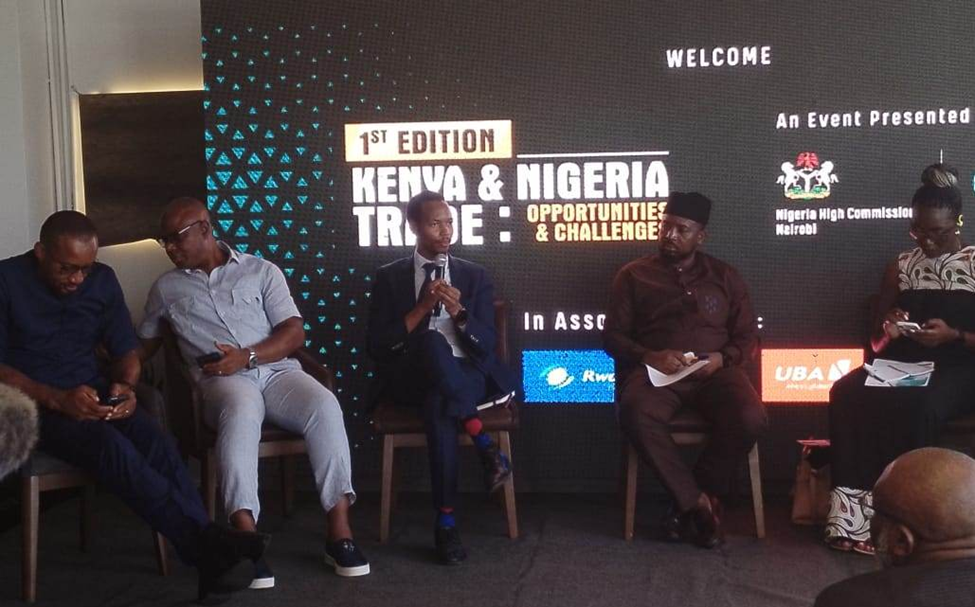 Second from left, Mr. Chike isiuwe, managing director/ CEO UBA Bank Kenya and Mr. Nicholas Koros group CEO brij in the middle,  during the first edition of Nigeria in Kenya business roundtable. 
By Benard Mulwa
A delegation of business people from Nigeria has kick started the first edition of trade strategies between Kenya and Nigeria with a focus to strengthen ties and enhance cross border trade and co-operation.
The objective of this business roundtable is to take the lead to better regional integration and promote bilateral and government to government relations. Nigeria and Kenya has been in partnership for the last 25 years which have seen 4.4 million exports to Kenya of petroleum products and 4.3 million dollars imports in agriculture, tea, Cocoa to Nigeria and is projected annual increase over 10 percent for the last 25 years.
Mr. Nicholas Koros, the group CEO of brij said there are new emerging markets in Technology both in Nigeria and Kenya, "We have different in political standards but we can use political means to resolve regulations, reciprocity and diplomacy" he said Key challenges are Political, economic and diplomacy.
There is need to look in to infrastructure by reducing transportation. Visa free to Nigeria to open markets access by removing barriers. Mr. Nicholas Koros also observed that over 4000 Nigerians resides in Kenya but Stereotypes affects business in Kenya, "Kenya shilling and Nigeria dollar do not trade, so in brij we have three products, currency interoperability, playbill Africa and remittance which the company operates in" Mr. Koros adds that out of a hundred percent of business transactions in Africa, 80 percent of the transaction are concluded out of Africa.
In the discussions, the delegation challenged governments of both countries to constantly engage and capitalize on free trade areas Mr. Koros said.
At the same time, United Bank for Africa (UBA) PLC which is a leading pan-African financial service institution with a global foot print signed an agreement with AFCFTA to promote the development of SMEs operating in four sectors under the first phase of the partnership by providing technical and financial solutions for intra-Africa domestic alternatives. These economies sector are Agro-processing, Transport and logistics, Automotive and pharmaceuticals.
The African Continental Free Trade Area (AFCTA) has delivered far greater benefits making it a potential game changer for Africa's economic development.
Mr. Chike isiuwe, Managing director and CEO of UBA Bank Kenya, stressed the importance to adhere to law for the ease of doing business, he highlighted UBA's commitment to compliance and its dedication to supporting Nigerian community in Kenya through customized and tailored business solutions.
Many more MOU been signed between Nigeria and Kenya on oil, gas and agriculture. In 2004 Nigeria government established a foreign investment to ease the process in getting permits.
Kenya and Nigeria are both important players in their respective economies, with Nigeria being the largest economy in Africa with over 200 million people and a GDP of 6 million US Dollar.