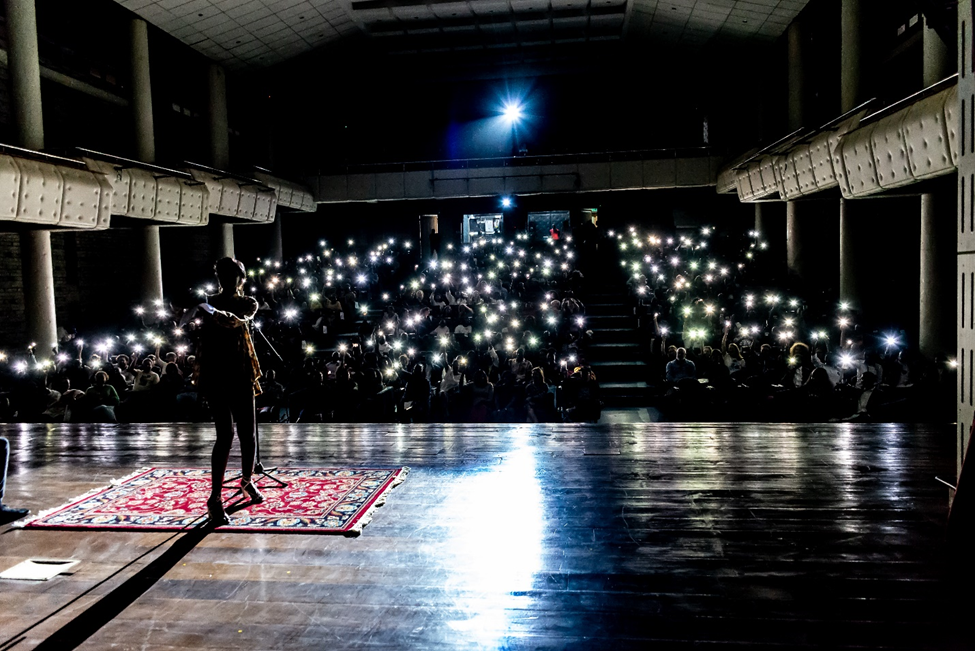 Adelle Onyango on a previous Moth Mainstage in Nairobi Taking a selfie with the audience.
by Staff reporter
Nairobi's vibrant storytelling community is on the brink of experiencing the fifth annual edition of The Moth event, a hallmark celebration of unforeseen narratives. The Moth, a renowned non-profit dedicated to the art and craft of storytelling since its inception in 1997, has been a guiding light for individuals worldwide. With over 60,000 true stories shared live across the globe, The Moth has become a beacon of personal narratives, radiating its brilliance through the Peabody Award-winning The Moth Radio Hour and The Moth Podcast, which receives 100 million annual downloads from listeners across the globe.
Four years ago, The Moth found its home in Kenya, bringing with it a yearly session intertwined with quarterly storytelling workshops for gender equality and world health advocates that have indelibly marked the local landscape. The Moth's storytelling gatherings have organically evolved into a melting pot, uniting individuals from diverse backgrounds. These stories are akin to strokes of a painter's brush, vividly depicting moments that transcend time and space. They are authentic and deeply personal, occasionally intense, at times uproarious, and often mysteriously captivating. These narratives, regardless of their mood, always burst with vibrancy and life. These stories have the power to change hearts and minds, and they celebrate the commonality and the diversity of our human experience.
The eagerly awaited event for this year is scheduled for Saturday, November 4th, from 6 pm to 9 pm at the LRC Auditorium of the Catholic University of Eastern Africa. The evening's charismatic host will be none other than Kenyan media visionary, equality activist, and Moth alumna, Adelle Onyango. Sharing the stage with her will be five varied and accomplished activists, all proud graduates of The Moth, ready to weave stories that revolve around the theme, "Power and Possibility #DopeEra." These unique, true stories will explore finding courage, stepping into power and realizing what's possible. You'll hear stories of rolling the dice for a lucky break and entering the arena for a fighting chance – digging deep, asking what's next, and leaping into the unknown. These hilarious, heartbreaking and authentic stories will make you feel more connected and inspire you to live in your #DopeEra. Special musical guest TBA.
Stories from the evening will be recorded for future episodes of The Moth Radio Hour and The Moth Podcast.
With over 500 guests expected to grace the event, African storytellers shall be given precedence to listen to inspiring narratives. The Executive Producer, Sarah Austin Jenness expresses her enthusiasm about The Moth's journey in Kenya: "The community of storytellers in Kenya is vibrant and thriving, and we are elated to host The Moth's fifth event here to elevate stories that will continue to inspire conversation. Personal stories are powerful and the stories in Kenya are nothing short of extraordinary. We eagerly anticipate continuing our mission of amplifying voices and forging connections through these deeply personal narratives."
Director Chloe Salmon shares her excitement for the event: "It's remarkable to witness how The Moth has become a driving force in Kenya's storytelling arena. The warmth and diversity of the stories we've encountered have enriched lives in unimaginable ways. As we celebrate our fifth event, we are reminded of the remarkable journey we've embarked upon with storytellers and audiences alike."
About The Moth
The Moth is true stories, told live and without notes. As an organization, it celebrates the ability of stories to honor the diversity and commonality of human experience. This curated live event features five storytellers who share true stories on an array of topics, creating an experience that is intimate, inspiring, captivating, theatrical, and enlightening.
The Moth is a global nonprofit dedicated to the art and craft of storytelling. For 26 years, The Moth has presented over 60,000 true personal stories, told live, without notes, to standing-room-only audiences and virtually around the globe. Renowned for showcasing a broad range of human experiences, The Moth produces approximately 600 live and virtual shows each year and has an ongoing presence in 27 cities worldwide. Additionally, The Moth runs storytelling workshops for high school students, teachers, adults and advocates from around the world through its Education, Community and Global Programs, and MothWorks, which uses the essential elements of Moth storytelling as an empathetic communication tool. The Moth's Global Community Program is supported by the Bill & Melinda Gates Foundation.