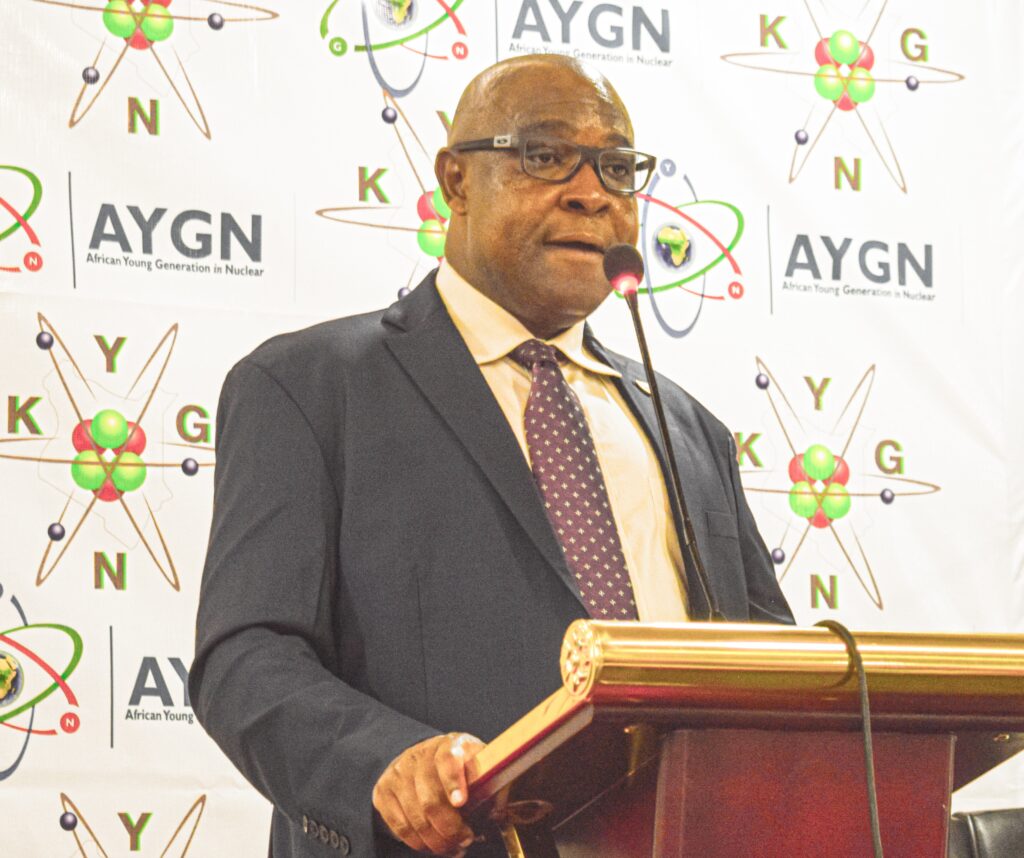 Wabuyabo Acting Chief Executive Officer, Nuclear power & energy agency. Photo: Kelvin Okal.
By Benard Mulwa
More than 2500 youthful and energetic members from 20 African countries are meeting in the capital city of Kenya, Nairobi today in an effort to consolidate the peaceful application of nuclear science and technology.
The African Youth for Nuclear Generation summit 2023 is 4th Edition which was proposed to bring on board the youth to discuss about career path and Nuclear Energy as an alternative source to fossil energy, to expose young people to opportunities in Nuclear power, empowerment and employment and to connect them to trainings.
Africa has the youngest population in the world with more than 400 million young people aged between the ages of 15 to 35 years.
The theme of the summit, 'Nuclear Energy: A Vista of the Future' captivates and explores the potential and promise of nuclear science and technology for economic sustainability, reliable and low carbon electricity generation for the future and also demonstrates that challenges associated with nuclear science and technology can be overcome through continued innovation, collaboration and participatory dialogue among stakeholders in the nuclear industry and beyond.
The Chief Executive Officer, Nuclear power & energy agency in Kenya, Justus Ambutsi Wabuyabo said in his opening speech that Nuclear energy is an indispensable tool for achieving the global sustainable development agenda. In this regards, the Government of Kenya has identified nuclear energy to be commissioned in 2034 to power the national development goals, "In this regards, Kenya has made significant steps in the implementation of the nuclear power programme. Kenya has carried out pre-feasibility study on the Nuclear Power Programme; undertaken extensive nuclear capacity building in which the staff of energy sector entities and nuclear sectors in the country have been trained in nuclear engineering and energy policy, undertaken Strategic Environmental and Social Assessment, nuclear power plant site identified" he said, adding that, The country also enacted the Nuclear Regulatory Act of 2019 which established to established an independent nuclear regulatory body – KNRA. The country is also developing subsidiary legislation to operationalize the Nuclear Regulatory Act of 2019.
Justus Ambutsi Wabuyabo, the CEO, Nuclear power & energy agency in Kenya, emphasize that peaceful application of nuclear science and technology will be a game changer in the socioeconomic development of the African continent.
The summit will go a long way in shaping the landscape of nuclear science and technology in the continent by, Promoting knowledge sharing and networking among young professionals and experts in the African nuclear industry;
Inspiring and empowering young people to pursue careers in the nuclear industry, and to promote gender and diversity inclusion in the nuclear field
Fostering a dialogue on the latest developments and innovations in nuclear science and technology, including advancements in nuclear power generation on the African continent, explore opportunities for international cooperation on nuclear energy, and discuss the role of nuclear energy in addressing energy challenges, climate change and other related issues in Africa and;
Strengthening the partnerships and collaborations among African countries and international organizations in the nuclear sector.
Engineer Nduma Ruwah, the acting Principle Nuclear Energy Electricity Board, said Kenya is doing homegrown capacity in order to be able to conduct its own financial and technical feasibility, "we are still conducting stakeholders engagements, and environmental impacts is still on going, he said at an interview adding that details on site characteristics in Kenya have been conducted on Nuclear small model reactors, (NSMR).
Engineer Nduma also said Kenya expects to have its first power plant in 2027.