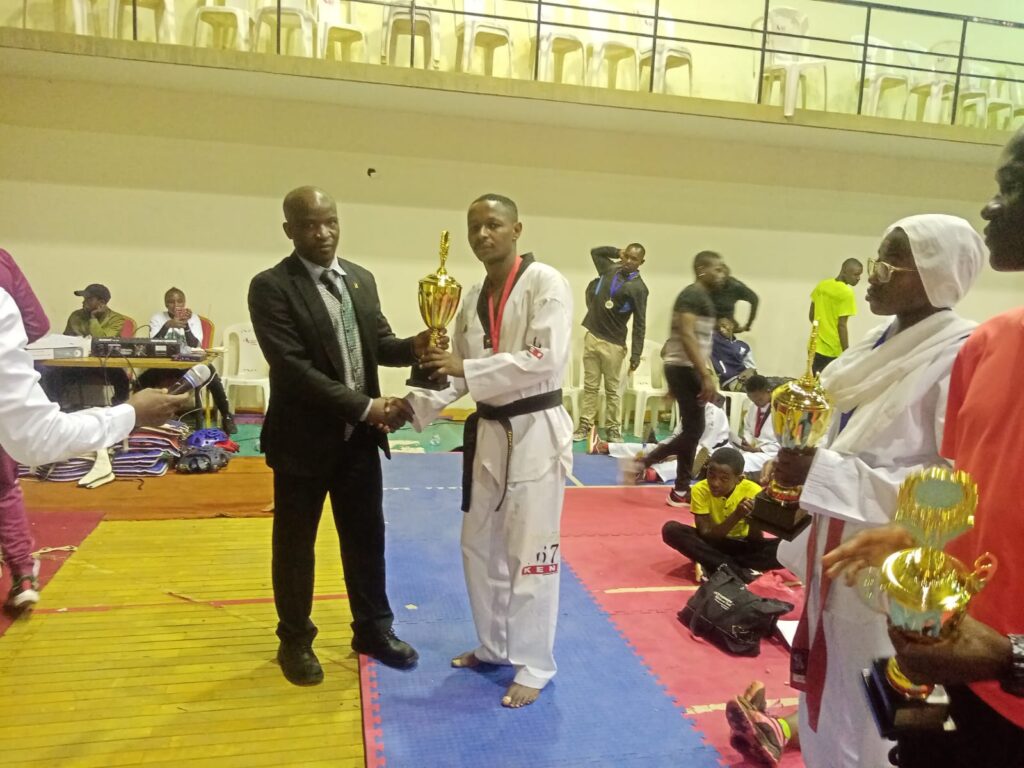 By Fred Maingi
Kenya Defense Forces (KDF ) proved their might when they emerged winners of the one-day Nairobi County five-two aside Taekwondo Junior Championship held at Kasarani over the weekend.
The 10-teams tournament that attracted a foreign team from Burundi (Team Jaguar ) lived up to its billing with plenty of fireworks and upsets.
KDF led by their coach John Ireri were a joy to watch. They amassed 15 Gold and a similar number of bronze.
Regional team led by Master Voiya Lumwach who doubles up as the Chairman of Taekwondo Nairobi region finished second overall with 10 Gold and similar number of silver. Shofco team finished third with 10 Gold followed by Black Kings and Mathare North in that order.
In his speech, Voiya thanked participating teams for showing discipline and sportsmanship. He particularly thanked Burundi for being a regular participant.
He said the state of Taekwondo in the country is good but the major challenge remains funding and lack of adequate sponsorship.
Voiya further pleaded with the Ministry of Sports to step in and fund counties but not the National level alone.
"I ave approached friends in Europe for sponsorship for our future events. It's expensive to host a tournament without funding. I had pledged some uniforms for winning teams but I have issues with clearance. Next event in our calendar is the International coaching seminar for referees whose dates will be announced in due course. "Observed Voiya who is one of the top Taekwondo instructors in the region.
He added" We have also a junior tournament in April which is among the many events in our calendar. We need true support and sponsorship to boost our future events"
Other future events include the Presidents Cup donated by Major Suleiman Sumba slated for April in Mombasa at KPA makande hall, Madaraka Cup, Labour Day, Jamhuri Cup, Mashujaa Day and the All Africa games qualifiers set for next year among others.
Other participating teams apart from the winners included NYS Nairobi, KDF engineers,
Mks County, St. Teresa, Lions Gate Korogocho, NMN, Shofco, and Kayole Taekwondo.
Other teams included Rahamani club from machakos, and others from Meru, Awendo and the visiting Burundi team.
The colourful event was graced by Taekwondo Grandmaster Ngala Hastings, Instructors Isaac Kamau and Coach John Ireri both from KDF among other Administrators.
A volunteer Mr Spider donated Ksh. 20,000 to be shared among the top three finishers. Winners were also rewarded with medals, trophies and a small token of appreciation.