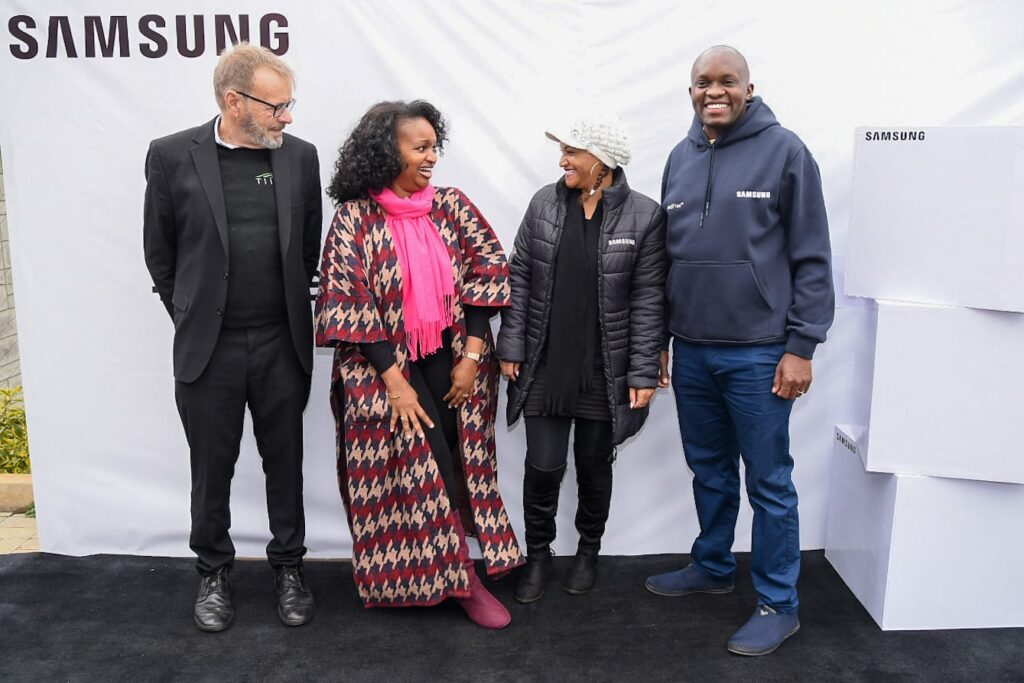 Tilisi CEO Mr. Graeme Reid, Content Creator Ms. Grace Msalame, Samsung Electronics Marketing Manager Irene Mwema, and Head of Consumer Electronics East Africa Mr Sam Odhiambo,
BY MANDELA WILSON
5th august 2023, Nairobi. Samsung today unveiled their latest range of home appliances. While partnering with Tilisi homes development, Samsung showcased their products in two of Tilisi show houses. Samsung showcased the whole ecosystem of their new products basically giving customers a feel of how a smart home would work.
In a captivating event at Tilisi Homes, an ambitious collaboration between Tilisi and Samsung unfolded, setting the stage for a future of smart living and accessible home ownership in Kenya. The event saw the enthusiastic presence of Mr. Graeme Reid, CEO of Tilisi, and Mr. Samuel Odhiambo, Head of Department Consumer Electronics at Samsung.
The 2023 line-up of smart consumer electronics is made of the Neo-QLED TV that is available from 98 inches to 43 inches, the Bespoke Top-Mount Fridge that comes in pink, cream, navy and black allowing home owners to customize their homes based on personal tastes and preferences, the AI enabled washing machine, the Frame TV that turns into a piece of art when off and the Freestyle a portable projector.
Speaking at the launch the of Head of Consumer Electronics at Samsung Electronics East Africa, Mr. Sam Odhiambo said, "Today marks a significant milestone in Samsung's relentless pursuit of innovation.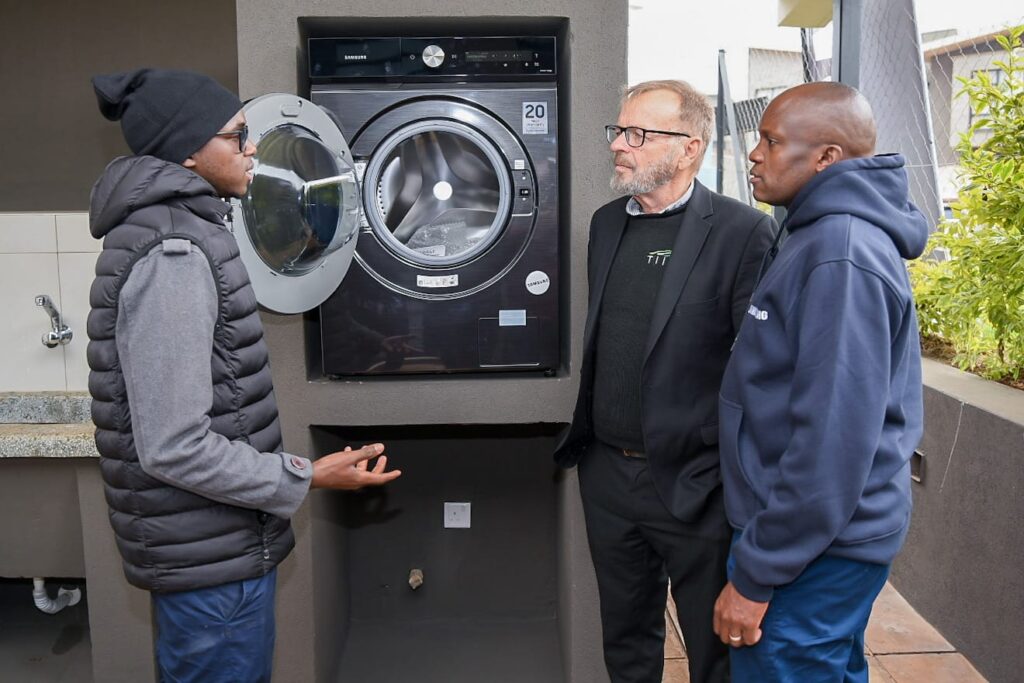 Samsung Trainer Meshack James, Tilisi CEO Mr. Graeme Reid and Head of Consumer Electronics East Africa Mr. Sam Odhiambo experience the connectivity of Samsung Eco Bubble washing machine via the Samsung Galaxy Fold 5
We are thrilled to announce the launch of our latest line of home appliances that not only add convenience to your life but also redefine the way we interact with technology within our homes." He further went on to add, "We are living in the smart age and customers are looking for electronics that go beyond functionality. We believe that technology should serve you, rather than the other way around. With this principle in mind, living the Samsung Bespoke Life allows you to design a home that not only caters to your unique needs but your values as well, empowering you to enjoy a more personalized, connected and sustainable lifestyle."
Samsung's Mr. Samuel Odhiambo outlined the true potential of Smart Home Automation. He shared Samsung's SmartThings technology, demonstrating how homeowners could effortlessly control their households with a single touch. "Samsung SmartThings is not just about innovation; it's about making life easier and smarter," he enthused.
In particular, he outlined how SmartThings' energy-saving solutions help users manage their energy usage and reduce their carbon footprint and energy bills. This includes providing up to 15% more savings for compatible refrigerators, up to 70% for compatible washers for courses operating in AI Energy Mode with the Ecobubble washing machine.
Mr. Odhiambo also revealed that this collaboration extended beyond technology. Samsung and Tilisi were introducing flexible payment plans to make home ownership a reality for more Kenyans. "Our goal is to make the dream of owning a home accessible to everyone," he added.
The payment plans offered convenience and affordability, ensuring that potential homeowners could realize their dreams without financial burden.
Tilisi's grand vision and Samsung's technological prowess converged to redefine the concept of contemporary living. "At Tilisi, we believe in a world where everyone deserves a place to call home," stated Mr Graeme Reid . The partnership with Samsung, a global leader in smart technology, was a testament to their commitment to empowering Kenyan homeowners.
Mr. Graeme Reid had the following to add on the experience, "The Kenyan Luxury real estate buyer is a world traveler.
Therefore they are well exposed to global standards of living and a smart home is one of them. Partnering with Samsung, we have been able to bring global smart home standards to Kenya showing Customers that the Tilisi Views homes are indeed for them"
The event also shed light on Tilisi's partnership with esteemed financial institutions like Absa Bank. "Our financial partners share our commitment to empowering individuals with the keys to their own homes," CEO Graeme Reid explained. Through these collaborations, Tilisi aimed to streamline mortgage processes and provide personalized financial solutions tailored to each homebuyer's needs.
The mutual excitement and optimism from both Mr. Graeme Reid and Mr. Samuel Odhiambo were palpable. The Tilisi-Samsung partnership represented a significant milestone in Kenya's real estate landscape, marrying cutting-edge technology with affordability. "With Smart Home Automation and accessible payment plans, the future of home ownership in Kenya is brighter than ever," Mr. Reid concluded.