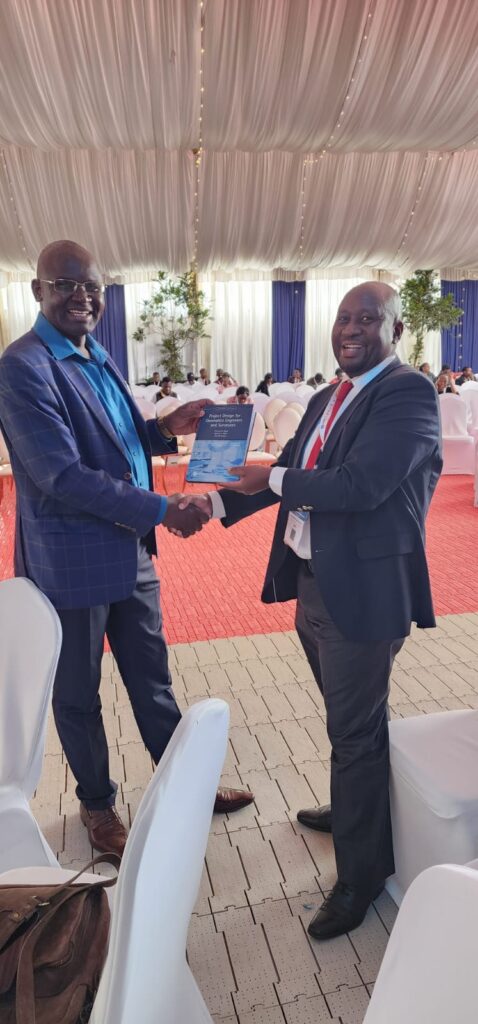 Nashon Adero(In Blue Shirt) -a Geospatial & system expert of Engineering at the Taita University displays his new book.
The eagerly awaited book is entitled "Project Design for Geomatics Engineers & Surveyors"
By Wilson Amondo
Nashon Adero – a geospatial & systems modelling expert and lecturer of Engineering and GIS at Taita Taveta University (TTU) launched a new practice-oriented book, Project Design for Geomatics Engineers and Surveyors.
The book was launched on 10th August 2023 before an international audience of industry experts, researchers, and academics at the RCMRD International Conference, Kasarani, Nairobi.
This follows the major launch that took place on 4th July 2023 in Nairobi and London simultaneously, with Prof. Washington Yotto Ochieng, EBS, FREng (Head of the Department of Civil and Environmental Engineering at Imperial College London) as the keynote speaker.
Co-authored by an all-Kenyan team and alumni of the University of Nairobi with international exposure and a rich mix of experience in teaching, research and industry practice.
The book is expected to grab headlines as a paradigm-shifting manual for geomatics engineers and surveyors. College students, professors and industry practitioners can now find a reference book that acts as a one-stop shop for both the hard and soft skills, and both the age-old fundamentals and cutting-edge advances which they need to keep pace with evolutions in the dynamic disciplines.
Adero stressed at the launch that the book is suitable as a reference manual for geomatics engineers and the wider surveying fraternity, given its practice-oriented and project-based approach.
The book is locally available from Nuria Bookstore, Nairobi, retailing at 16,000 Kenyan shillings.
It is also available from Amazon and other online outlets.
The author
doubles up as an Associate Director with ESIPPS International Ltd, overseeing the Nairobi Africa Office. Clement Ogaja is a geodesist with NOAA(USA) and Derrick Koome, a licensed drone pilot, is the founder of Cheswick Surveys and completes the authors list for the book published in 2023 by Taylor & Francis Group, CRC Press, in London.